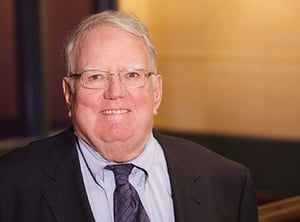 On April 17, we sadly lost our dear friend and colleague, William Russell. He was a dedicated financial adviser and CERTIFIED FINANCIAL PLANNER™ at Advance Capital for 25 years.
Bill, however, was more than that to many people. As a Naval officer he served in Vietnam. He enjoyed spending time with his family, traveling, playing golf and cheering on his favorite teams (especially the Chicago Bears).
His first career was with Illinois Bell/AT&T, from which he took an early retirement in 1993. He then decided to go back to school and get his Certification in Financial Planning before embarking on his second career as a CFP® with Advance Capital. As a tremendously generous person, he often acted as a mentor to other advisers at our Illinois office.
Advance Capital adviser Bill Hickerson fondly remembers his hospitality: "I won't forget how inviting Bill was to me when I came to work alongside him almost 20 years ago. He and his wife, Karen, invited me over to their house and made me feel very welcome. Karen extended the same friendliness to my wife, when she joined me with our newborn."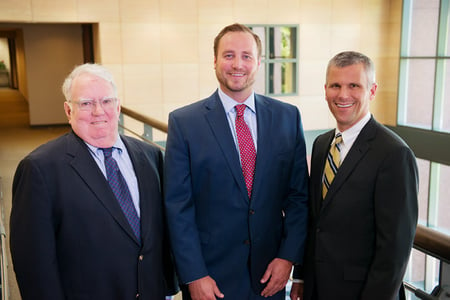 Advance Capital Management Illinois financial advisers.
L to R: Bill Russell, Derek Van Solkema, Bill Hickerson.
For Derek Van Solkema, an Advance Capital adviser who also worked with Bill, it may be the good conversation he'll miss most: "I feel extremely blessed to have gotten the chance to work with Bill over the last two years. We spent a lot of time talking about our families, football, golf and food. He was a very proud grandfather. Every Monday morning, he was happy to share stories of what happened over the weekend at his grandkids' various events. I will also remember him for the love he had for his wife. Although I will miss him here at Advance Capital, I can rejoice in the fact that he is reunited with the love of his life, Karen, in heaven."
We know Bill was incredibly honored and grateful for the opportunity to help other people. When asked what was most rewarding about working as a financial adviser, he said: "For me, it's extremely satisfying to be able to give real, honest advice to clients and then receive sincere appreciation in return."
We ask that you please keep Bill's family in your thoughts during this difficult time.
Memorial Contributions may be made to The Russell Family Scholarship at Kenyon College, Gambier, OH. To leave an online condolence for the family, visit the funeral home's obituary page at www.yursfuneralhomes.com.