Our Chance to Combat Financial Illiteracy in America
August 27th, 2020 | 5 min. read
By Vince Vitale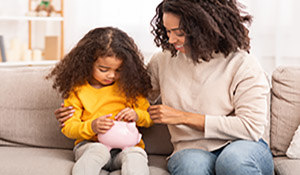 By Vince Vitale
What does it mean to be financially literate?
I bet most people will say it's simply the ability to manage one's own finances. That is something most Americans struggle to do.
Consider these remarkable statistics of personal financial health in America:
While there are many contributing factors, the one that affects everybody and the one we can all help do something about is the lack of financial education. By adulthood, few of us have the know-how to handle the many financial decisions we have to make in life. Only 24% of today's young adults show signs of basic financial literacy.
Financial literacy goes beyond just spending less than you make. As defined by the Organization for Economic Cooperation and Development, it is "a combination of awareness, knowledge, skill, attitude and behavior necessary to make sound financial decisions and ultimately achieve individual financial well-being." In addition to budgeting, it involves investing, insurance, real estate, paying for college, retirement and tax planning.
I think with targeted financial literacy programs, we can do better to help ourselves and our communities. So, I want to share with you the major areas where can improve and an exciting opportunity for you to make a difference right now.
Financial literacy in schools
We teach our children a variety of basic skills, from math to reading, but little about something they'll use every day: money. Children study Albert Einstein's theory of relativity, yet few learn about what he is reputed to have called "the most powerful force in the universe," which is compound interest.
Only 21 states require high school students to take a course in personal finance, according to the Council for Economic Education.
Most schools teach the subject as part of another course of study, such as math, economics or social studies, while only five states require a semester-long, stand-alone personal finance course.
Early financial mistakes can set people up for years — if not a life — of financial struggle. Therefore, early education on things like interest rates, credit scores and budgeting, for example, would prepare people for big financial decisions, such as financing college, buying a home and saving for retirement.
Research indicates that in states that have financial education requirements, students exhibit more informed behavior around college financing; in particular, those from lower-income families. In states without requirements, there is a 15-point gap in access to financial education between kids from lower-income versus wealthier families.
We need more financial literacy programs in schools, especially in low-income communities.
The financial literacy gap
Poverty is another contributing factor to financial illiteracy. Many minorities live in the most impoverished American communities. Which helps explain why financial literacy among minorities is significantly lower relative to whites.
I am extremely fortunate to come from a background where I was afforded many opportunities and exposures to learn about money. My parents made enough money to live in a decent neighborhood, take us on vacations, pay for sports and always put food on the table. My dad starting self-trading stocks during the early days of the internet and taught me some basics about investing in the stock market.
At age 12, I began cutting lawns in my neighborhood, and my dad loaned me money to buy equipment. I spent all summer paying him back (luckily the loan was interest free!), which helped me learn about accounting and debt. As I began working and saving money, I too began investing in the stock market by age 15. I have had much success in life, have worked very hard, but can also recognize and reflect how difficult it might be if I was not afforded a safe and secure home with supportive parents.
Millions of children grow up without these opportunities.
Imagine growing up in a household where your parents work, but struggle to provide the necessities. Or maybe you live in a single parent household, or your parents were in jail or on drugs. They don't have a bank account. Instead, they cash their check at the corner store or a check cashing service. They can barely afford to put food on the table, let alone invest in stocks. They don't own a home or a car. Also, imagine everyone you know in your community lives in a very similar fashion.
Where would you learn about money?
Who would inspire you to find a career in the lucrative field of finance? A survey from the Certified Financial Planner Board found that just 3.5% of certified financial planners are African American or Latino.
What's worse, it is awfully difficult to break free. Consider that 43% of Americans whose childhood homes are in the bottom economic quintile remain there as adults. By the same token, 40% of people who are born in the top quintile remain there for the rest of their lives, while only 4% born into the bottom quintile will make it to the top quintile.
The problem is systemic. There is no easy solution to poverty or the poor financial shape of most Americans. But I believe a worthy place to start is financial education, particularly by boosting programs for minority children.
Our chance to improve financial literacy – and people's lives
Now is our time to start making a change.
I am asking you to please help me support a great organization that is preparing the next generation to be more financially literate, the Junior Achievement of Southeastern Michigan "JASEM". As president of the CFA Society of Detroit and a financial leader in our community, it is my goal to provide awareness and support to JASEM.
The JASEM provides volunteer-delivered kindergarten through 12th-grade programs, fostering work-readiness, entrepreneurship, financial literacy skills, and using experiential learning to inspire students in our community to dream big and to reach their potential. JASEM also envisions, and firmly believes, that all youth, no matter age, race or socio-economic status deserves the opportunity for success.
Here is how you can help right now.
I am pleased to announce Advance Capital has become a gold sponsor of the first ever Junior Achievement Stock Market Challenge. This new and exciting fundraising initiative invites financial market enthusiasts of all skill levels to partake in a three-month virtual stock simulation to see who can build the best portfolio for a good cause.
By enrolling, participants will have access to:
A no risk opportunity to get real world exposure to the stock market.
Video library of informative resources, teaching fundamental concepts related to various financial markets and portfolio management.
Invaluable experiential learning – building and managing a $100,000 portfolio with the ability to trade "real-time".
Don't pass-up on an opportunity to not only donate to a great cause, but also share a fun real-world educational experience for you and your kids!
And if that isn't enough – at the end of the 3-month competitive window, prizes will go to the individuals with the largest balances! The three teams/individuals with the highest valued portfolio at the end of the competition will receive prizes and recognition at the Virtual Program Finale & Awards Ceremony on December 2.
Proceeds from the challenge will help fund a new investing program for the students of JASEM.
To register or for more information about the event, please visit the JASEM website.
With your help, we can improve financial literacy, prospects of a career in finance and the financial well-being among the youth in our communities!
Vince Vitale is a Chartered Financial Analyst and Chartered Alternative Investment Analyst who provides people with comprehensive wealth management solutions, such as retirement planning and investment advice, to help them achieve their financial goals. He also serves as President of the CFA Society of Detroit and Executive Board Member/Treasurer for the Men Who Care Corporation.