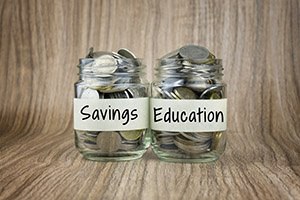 Although we all share many common financial goals (eliminating debt, building wealth, etc.), the financial challenges we face are dependent upon our personal circumstances. A case in point is parents, who are challenged with saving for their retirement while also saving for a child's college education.
Both financial goals are important and require a significant amount of money. They are also uniquely interlinked, as tuition bills often come due around the time most people are nearing retirement – a time when every dollar counts.
Of course, as a parent, you want what's best for your child. But at what cost? Your retirement goals?
Fortunately, you don't necessarily have to choose between retirement and college. It's possible to save for a comfortable retirement and help your child get through college debt-free. Here are some things to consider for those trying to achieve both goals.
PRIORITIZE YOUR GOALS
Not all financial goals are equal, so you have to prioritize.
When it comes to your retirement and your child's college education, your retirement should always come first.
Look at it this way: if you put more money toward your child's education than your retirement, you may not be doing your child any favors in the long run. You may not save enough for retirement and then have to rely on your child for financial support as you age. Especially, if you end up needing long-term care.
There are no scholarships, government grants or personal loans available for retirement. But, there are a plethora of options available to your student to help with college expenses.
In addition to financial resources, your child has the advantage of time. When your child enrolls in college, you're likely nearing retirement and at your peak earning potential. Your child, on the other hand, can afford to take out a loan because after graduation their earnings should rise as the outstanding loan balance falls.
It's also worth considering the benefits to your child from having greater responsibility for the costs of college. It can encourage your student to better appreciate the opportunity and learn how to manage a budget.
WAYS TO HELP PAY FOR COLLEGE
To find out how much you can afford to save for your child's education, first look at your retirement savings. What percentage are you saving for retirement each month? Around 10-15% of your paycheck is ideal. Anything left over can be placed in a college savings fund.
If you need more income to save for college, find expenses in your budget that you can either reduce or eliminate and allocate those to your college savings.
There are also ways to help your child that don't involve money, such as researching scholarship and financial aid opportunities. For example, the website StudentScholarshipSearch.com allows you to find scholarships related to your child's field of study, background and other attributes.
Another option is to sign up for Upromise (Upromise.com). As a Upromise member, you can earn cash back for eligible purchases that goes into a college savings plan.
SET UP A 529 PLAN
A 529 plan is a tax-advantaged investment account designed for college and other higher-education expenses. They are usually sponsored by states.
The savings in a 529 account can be used for tuition, books, and other education-related expenses at most accredited colleges and universities, U.S. vocational-technical schools, and eligible foreign institutions.
College savers are attracted to 529 plans for several reasons, but the tax advantages may be the biggest draw. Your earnings can grow tax-deferred and some states allow you to deduct your contributions. Also, withdrawals for qualified higher-education expenses are tax-free.
You are allowed to contribute to a 529 plan from a different state, so work with an adviser to set up a 529 plan that's most appropriate for you and your student.
WORK WITH A FINANCIAL ADVISER
Reaching your financial goals generally involves a lot of moving pieces. An adviser can look at your entire financial picture and then help create and implement a plan that balances your competing goals.
Specifically, an adviser can help parents determine how much to save for retirement, how much they can save for college and how best to invest money in a 529 plan. Perhaps more importantly, an adviser can provide expert guidance along the way to keep you on track.
When it comes to saving for college versus saving for retirement, both goals are achievable with proper planning and guidance.