The Basics of Medicare: 11 Things You Need to Know
October 20th, 2022 | 5 min. read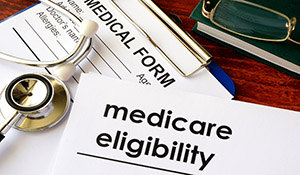 Healthcare will likely be one of your biggest retirement expenses. Most retirees rely on Medicare, which is the national health insurance for older adults and people with disabilities. Unfortunately, Medicare's various plans can be complex and confusing. And choosing the wrong plan can be expensive.
A good place to start is with the basics.
By familiarizing yourself with the basics of Medicare and learning where to turn for help if you need it, you can identify a plan that will work for you – and avoid unnecessary costs.
1. YOU'RE ELIGIBLE FOR MEDICARE AT AGE 65
When you turn 65, Medicare becomes your primary health care provider and any private insurance you have becomes your secondary payer.
2. WHEN YOU CAN ENROLL IN MEDICARE
There are several different enrollment periods for Medicare:
Initial enrollment period – You can first enroll in Medicare Part A and Part B during a seven-month period starting three months before the month you turn 65.
General enrollment period: If you miss the initial enrollment period, you can still sign up between January 1 – March 31. However, your coverage will not be effective until July 1 of that year and you may have to pay late enrollment penalties for Part A and/or Part B.
Special enrollment period: If you are covered by an employer's plan that covers 20 or more employees when you turn 65, you're eligible for a special enrollment period that allows you to enroll for Medicare later. You can sign up anytime you're still covered or during an eight-month period starting after your employment or your coverage ends, whichever occurs first. To avoid coverage gaps, you will want to enroll before your employer coverage is scheduled to end.
3. THE MEDICARE OPEN ENROLLMENT PERIOD
The annual Medicare open enrollment period runs October 15 through December 7. During this time, you can switch plans.
4. YOU MUST ENROLL ON TIME
You are required to enroll in Medicare on time or you may be subject to late-enrollment penalties and a gap in health insurance coverage. Only if you are collecting Social Security when you turn 65 will you be automatically enrolled in Medicare. If not, then you will have to sign up for Medicare, beginning three months prior to your 65th birthday, as mentioned above.
5. HOW TO ENROLL IN MEDICARE
You can enroll for Medicare through the Social Security website at www.socialsecurity.gov, or by calling 1-800-772-1213.
6. THE DIFFERENT PARTS OF MEDICARE
Part A
Part A covers hospital services, including inpatient care, skilled nursing facility care, hospice care and home health care. The monthly premiums are free if either you or your spouse paid Medicare payroll taxes for at least 10 years, which makes you fully insured. You still must pay a deductible for any hospitalization. If hospitalization lasts longer than 60 days, you may be responsible for part or all of the daily rate.
If you don't qualify for premium-free Part A, you'll pay either $274 or $499 each month ($278 or $506 in 2023), depending on how long you or your spouse worked and paid Medicare taxes.
Part B
Part B provides medical coverage such as doctor visits, outpatient services, home health care, durable medical equipment and some preventive services. There is a monthly fee for Part B, which is $170.10 each month in 2022 ($164.90 in 2023) (or higher depending on your income). This is deducted from your monthly Social Security check, if you are collecting benefits. Some individuals who enroll for the first time and individuals with higher incomes may be charged an additional premium. Meanwhile, lower income individuals who qualify for assistance may be exempt.
Part C
Part C, known as Medicare Advantage, is offered by private insurers and acts as an alternative to purchasing Medigap and Part D. If you opt for one of these plans, you're essentially getting an all-in-one insurance policy. It will cover a specific amount of your deductibles and copays, and will usually include medications. Some plans also include dental, vision and/or hearing, but for an extra cost.
Part D
Part D is the prescription drug coverage portion of Medicare, and is provided by private insurers. You are not required to sign up for Part D if you have creditable coverage that is expected to pay, on average, at least as much as Medicare's standard prescription drug coverage. If your coverage is not creditable, you may have to pay a penalty for as long as you have Medicare coverage.
Your prescription coverage costs will vary based on different factors, including your prescriptions, the plan you choose and your pharmacy. Generally, after you enroll in a Part D plan, you'll have a separate yearly deductible of up to $480 in 2022 ($505 in 2023).
7. PART D COVERAGE GAP ("DONUT HOLE")
After you pay your deductible, you'll share some of the total costs up to $3,310. Here, there is a coverage gap (the "donut hole") where you're responsible for all costs between $3,310 and $4,850. Once your total costs exceed $4,850, you enter catastrophic coverage, at which point your Part D insurance will pay for almost all your drug costs.
The coverage gap begins after you and your drug plan have spent a certain amount for covered drugs. Once you and your plan have spent $4,430 on covered drugs in 2022 ($4,660 in 2023), you're in the coverage gap, or "donut hole". Here, you'll pay no more than 25% of the cost for your plan's covered brand-name prescription drugs. Once you've spent $7,050 out-of-pocket in 2022 ($7,400 in 2023), you're out of the coverage gap and automatically get "catastrophic coverage." It assures you only pay either 5% or a small copay (whichever is greater) for covered drugs for the rest of the year.
8. MEDICARE DOESN'T COVER EVERYTHING
There are many services and supplies Medicare doesn't cover. You can avoid the surprise out-of-pocket costs from these gaps with a supplemental insurance policy, but there are many plans to consider. Begin this process well before your effective Medicare start date to ensure that your supplemental insurance kicks in at the same time.
Medigap is designed to cover the gaps Medicare does not, such as deductibles, co-payments and coinsurance amounts. As if Medicare wasn't confusing enough already, there are dozens of companies offering over 100 Medigap plans. The difference is in costs. Therefore, you want to shop by first selecting the plan type you need, and then pick the insurer and premium that works for you.
Most people find they need to choose between a Medigap plan and Part D or a Medicare Advantage plan (Part C). There are pros and cons to both. The supplemental coverage option that's right for you depends on your personal factors, such as your financial situation and your health.
9. MEDICARE SHOULD BE INTEGRATED INTO YOUR FINANCIAL PLAN
Considering how much Medicare plan costs and coverage vary, choosing the right one means doing some homework. Contact the Medicare office for more information by visiting the Medicare website at www.medicare.gov or calling 1-800-MEDICARE (1-800-633-4227).
You should also contact your financial adviser to discuss what Medicare plans may best fit into your financial plan. Paying for more coverage than you need or a premium that you can't afford can derail your retirement goals.
10. YOU CAN AND SHOULD SHOP AROUND
Private insurers offering Part D, Medigap and Medicare Advantage plans can change their premiums and coverage terms. Therefore, you want to annually compare plans and shop around in an effort to get the same, or better, policy for a lower price. Unfortunately, many people don't take advantage of the ability to change plans.
Only 13 percent of people with a Medicare Part D plan switch plans each year, according to a study by the Kaiser Family Foundation. That can be a costly mistake.
A 2017 study by eHealth, Inc. found that only 10% of people enrolled in Medicare prescription drug coverage were enrolled in the plan that covered their prescription drugs at the lowest possible price. By switching plans they could have saved an annual average of $541.
Remember, the annual coordinated election period is from October 15 to December 7 each year. For most, the best place to start shopping for supplemental plans is on Medicare's own website, www.Medicare.gov. You can search for plans by using the Medicare Plan Finder.
11. MEDICARE DOESN'T COVER LONG-TERM CARE
A common misconception is that long-term care is covered by Medicare. The coverage it does offer is very limited, unlikely to meet the needs of anyone who needs long-term care.

Learn about what other ways you can pay for long-term care by downloading our white paper, Options for Funding Long-Term Care Expenses.
Choosing the right Medicare plan is not an easy decision, but it's something you can do. The worst decision you can make is to do nothing. With the help of financial adviser, you can integrate the costs into your overall financial plan so that your other retirement needs are unaffected.