The Psychology of Retirement Spending
April 22nd, 2021 | 4 min. read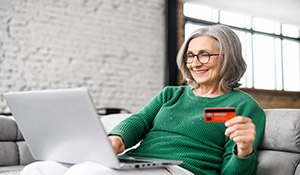 Are you scared about spending your hard-earned financial assets? If so, you're not alone.
A classic finance quip goes like this: "No one wants to be the richest person in the graveyard." Every dollar is to be used to live a comfortable, happy life. Right? Well, if a recent retirement survey is any indication, most Americans would feel more satisfied keeping some or all their assets to the very end of their lives and beyond.
Contrary to conventional wisdom – that people save money to then spend it on the things they've always wanted – many retirees say they are satisfied with just leaving that money in the bank. The Employee Benefit Research Institute's (EBRI) Spending in Retirement Survey evaluated the spending habits and well-being of 2,000 Americans ages 62 to 75, 97% of whom were retired. There may be a growing problem with how retirees spend money, but not the one you think.
It's worth taking a closer look at the survey for what it can tell us about how people feel toward spending in retirement. There are key insights on how you might want to manage the tricky transition from saving in your working years to spending in retirement.
Do you want to spend in retirement – or keep saving?
After decades accumulating assets, it is difficult to simply switch to spending those assets down. Especially when faced with many retirement uncertainties: capital market performance, your health, your longevity, etc.
Perhaps it should come as no surprise then that the EBRI survey found most respondents don't want to spend down all their assets.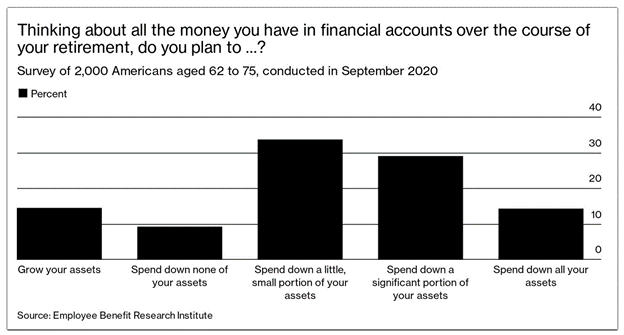 BLOOMBERG
Just over 4 in 10 (43%) respondents reported that they planned to spend down all or a significant portion of their assets in retirement. The majority (57%) wanted to spend down a small portion of assets, spend none at all, or grow their assets.
Why people choose not to spend in retirement
When asked about the rationale for not spending down assets in retirement, only 27% cited a "fear of running out of money." The top reason given was "saving assets for an unforeseen cost later in retirement" (38%), followed by "feeling that spending down assets is unnecessary" (37%), "wanting to leave as much as possible to heirs" (33%), and "simply feeling better when account balances remain high" (31%).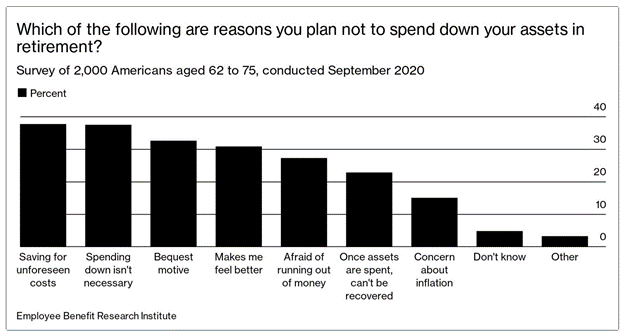 BLOOMBERG
Turns out a lot of retirees not only feel more comfortable but happier when saving money. A surprising 64% of survey respondents agreed that saving as much as they can makes them feel happy and fulfilled.
This flies in the face of conventional financial thinking. When we think about retirement, we often picture cross-country RV trips, quality time spent with family and friends, leisurely activities – anything but account statements with higher balances.
There is nothing wrong with managing one's wealth conservatively. But going too far carries its own risk – the risk that fear keeps you from spending money to enjoy retirement as planned.
Consider that fewer than 1 in 4 (24%) EBRI survey respondents scored their current life in retirement as highly aligned with how they expected or planned for their life in retirement to be.
The goal is to strike a balance between spending enough to enjoy life without the risk of running out of money in retirement.
There are different ways to do that.
How to Enjoy Guilt-Free Retirement Spending
Prioritize retirement spending
It is important to have a financial plan that reflects your specific goals and when you want to achieve them. But also, a financial plan that changes when your life changes.
That's because priorities change during retirement. According to the EBRI survey, maintaining health and wellness in retirement was by far the most important goal at the time people retired. More than 80% said it was very or extremely important. This became more important as retirement progressed. In contrast, traveling became less important for a quarter of survey respondents.
Therefore, you may want to prioritize some of your big retirement goals early in retirement as your health allows. Then focus retirement spending toward wellness costs as you age and health-related issues become a greater concern.
Choose the right asset allocation
Choosing the appropriate mix of investments can generate sufficient growth, retirement income and preservation for your specific financial goals. As you near retirement, it generally makes sense to lower your risk exposure, meaning a lower stock allocation in your portfolio.
But you still want to keep pace with inflation over a long retirement. You need some risk assets like stocks to help generate growth, even though your investment objective isn't to accumulate earnings as you did before.
Be flexible with your retirement spending
A common rule of thumb you may have heard of is the so-called "4% rule." This rule suggests a retirement portfolio comprised of 50% stocks and 50% bonds should last 30 years if you withdraw 4% in your first year of retirement and then adjust that percentage annually for inflation.
But if you stick with a fixed withdrawal rate, you could end up spending more or less than necessary. It's better to have a flexible withdrawal rate. Essentially, you allow yourself to withdraw a little more some years and less other years, changing as personal and market conditions change.
Plan for future healthcare needs
Whereas many of your expenses decline once you retire, health care costs will generally rise as you age. The uncertainty and potential burden of health care is another reason why it's important to have a retirement plan. (Of people with a written retirement plan, 86% know how they will pay for medical expenses in retirement, according to a Franklin Templeton survey.)
If health is primary retirement fear, work with a financial adviser to consider your options for potentially high healthcare costs, such as long-term care. It may make sense to purchase long-term care insurance before you retire or structure your assets in a way that allows you to self-fund your healthcare needs.
From choosing the right age to claim Social Security to figuring out where you want to live, there are many more important financial steps to take in your 50s to help you realize your dreams. You can find them by downloading our free ebook: Your Money in Your 50s: A Retirement Planning Guide for Procrastinators and Avid-Savers.