What If Your Monthly Pension Is at Risk for Cuts?
May 24th, 2016 | 2 min. read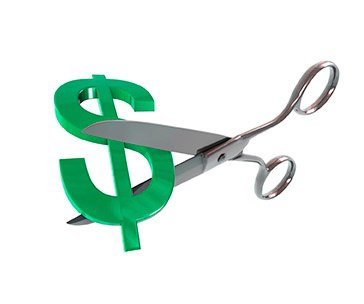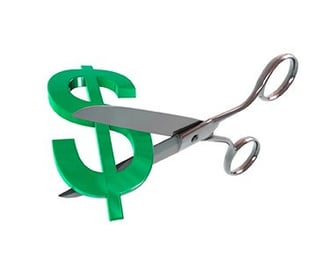 The days of sitting back in retirement as a consistent pension paycheck arrives each month are essentially over. Before choosing to take your pension benefit as monthly payout instead of a lump sum, investigate the long-term health of your plan. Even participants already receiving monthly payments are fair game for cuts.
Don't think it's only workers at financially unstable employers who should worry. Participants in multiemployer plans, which cover multiple employers and workers in related industries, can be affected too. The Kline-Miller Multiemployer Pension Reform Act allows troubled multiemployer pension plans to apply for the right to impose cuts to benefits.
Since the federal law passed in 2014, five multiemployer plans have submitted applications to the federal Pension Benefit Guaranty Corporation for benefit reductions. The PBGC already provides financial aid to 55 multiemployer plans.
In addition to the stability of your employer, the health of your pension plan relies on the discretion of a fund manager. The ability to produce positive returns can vary from manager to manager. And since payments don't fluctuate with the market, some managers may be pressured to make rash investment decisions in hopes of compensating for low returns.
Many pension plans are underfunded. The aggregate funding ratio, the ratio of pension assets to liabilities, for the 100 largest U.S. corporate pension plans was around 82% in 2015, according to Pensions & Investments.
What can you do if you're faced with the prospect of a reduced monthly pension payout? Consider these options to help you still live the retirement you've planned for:
Take a Lump Sum
Although a lump-sum pension payout puts you in charge of a substantial amount of money, you'll at least have peace of mind that it won't be unexpectedly reduced later in retirement.
Here are several additional reasons to consider cashing out of your pension plan:
Control over your assets. If you transfer your payout to a retirement account, such as an IRA, you can choose from a universe of investments; be as aggressive or conservative as you want; and reap the full rewards of any growth. It could mean more money for yourself and your beneficiaries.
Right to name beneficiaries. With a lump sum you can name anyone as a beneficiary, so you may pass on the remaining balance however you see fit – to your spouse, children or a charity. Pension income only extends to your spouse, who may only receive a portion of it. Meanwhile, your children will receive none of it.
Effect of inflation. Your pension may not be indexed to inflation, meaning you won't receive a cost-of-living adjustment and may experience a substantial loss of buying power over time. A lump sum invested in an IRA gives you the ability to choose investments that may help your money grow above the rate of inflation.
The effect of inflation over a 20-year period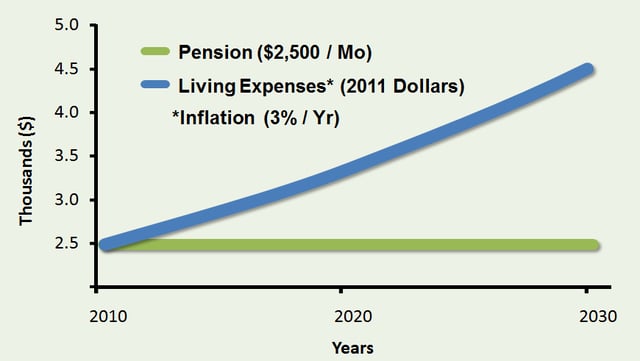 As you consider a lump-sum pension payout, keep in mind that investing in the market comes with risk and uncertainty. Even if you have made successful investment decisions in the past, you should seek counsel of an adviser to explore your investment options.
Contribute More to Other Plans
If you're still working, your retirement-saving options are not limited to your pension. You can try to contribute as much as possible to an IRA or a 401(k) plan, if available.
The money that accumulates in these retirement accounts could help make up for a reduction in your monthly payout. It could also serve as an emergency reserve if your pension plan is suspended by your employer.
The good news is that you have options if your pension plan is at risk of cuts. However, any of these choices come with long-term consequences that you need to consider carefully. Therefore, you may want to use this as an opportunity to seek professional help to find out which option is best for you.
Learn More
Are you a participant in a troubled pension fund who needs help?
Read this blog: Lump Sum or Monthly Pension? Pros and Cons
Speak with an experienced Advance Capital adviser who will help you explore your options: Fill out the contact form here or call 800-345-4783.