5 Financial New Year's Resolutions for Retirement
December 29th, 2015 | 3 min. read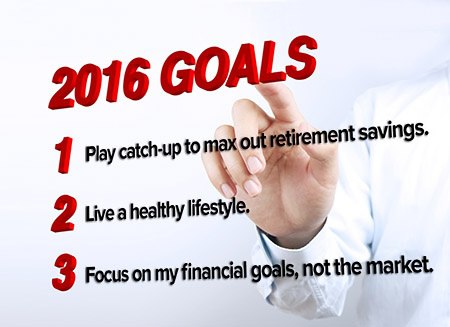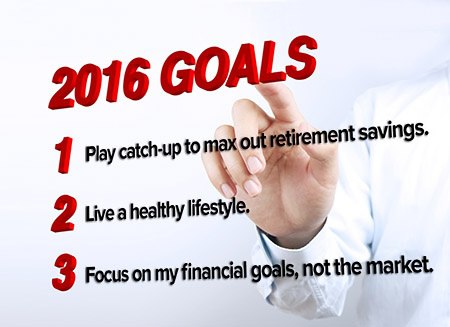 Even if you don't stay up late enough to watch the ball drop in New York or to pop a few bottles of champagne, you'll likely take part in one New Year's tradition: making resolutions. Generally, New Year's resolutions are promises to do certain acts to improve your own life or the lives of others. It is a way to begin the New Year with new goals and a clean slate.
In many respects, this is how people plan for retirement. After all, it is a new beginning. So this year, if you're approaching the twilight of your career, why not resolve to take steps to prepare for this next chapter in life.
Here are 5 financial New Year's resolutions for retirement:
1. Play catch-up to max out your retirement savings.
In 2016, workers age 50 and older can make catch-up contributions up to $6,000 to their 401(k) plans, for an annual maximum of $24,000. They can also contribute up to an additional $1,000 to an IRA for a maximum of $6,500.
According to a report by the Center for Retirement Research, most households do not increase their retirement savings after the children leave home. If you're an empty nester, consider using any newly available cash to boost your retirement accounts.
2. Live a healthy lifestyle.
This may sound like a New Year's cliché, but maybe you'll be apt to stick with it knowing that your health has real financial consequences. A study by the National Bureau of Economic Research found a strong relationship between health and wealth. Those in poor health had much lower assets than those in good health. There is also a difference in the amount paid on health care. A 65-year-old in good health paid an average annual health care cost of $4,450 compared to $4,760 paid by someone in poor health, as detailed in a report by HealthView.
You don't have to invest a lot of time, money or energy to live a little healthier. The Centers for Disease Control and Prevention recommends older adults get 2 ½ hours of exercise per week. That's just a little more than 20 minutes per day.
3. Focus on your financial goals, not the market.
Who knows what the year holds for capital markets. What we do know is that if you stick with your investment plan, you're likely to reach your financial goals. For example, a joint study by the Employee Benefit Research Institute and the Investment Company Institute found workers who kept their money in their 401(k)s from 2007 through 2012 had an average balance 67% higher than those who abandoned their plans during the financial crisis.
4. Meet with an adviser.
Have you looked at your financial plan recently? Do you even have one? Do you know how much you need to retire? If you've said no to these questions, then you should really speak with a financial adviser. Even if you said yes, it's recommended that you meet with your adviser at least once a year to make sure you're still on the right track.
According to the EBRI, those who calculated what they need to save for retirement had higher savings goals and were more likely to feel very confident about affording a comfortable retirement. Additionally, in a survey by the Insured Retirement Institute, baby-boomers with financial advisers were twice as likely to feel confident about their retirement savings as those without an adviser.
5. Prepare for a second career.
Life expectancies continue to rise, which means your retirement will likely last longer than previous generations. It's not unreasonable to think you'll have a 30-year retirement. What will you do in that time?
A greater number of retirees are choosing to pursue encore careers. According to a MetLife Foundation and Civic Ventures report, 31 million people between ages 44 and 70 intend to pursue second careers. While work can be an additional income source in retirement, some of the reasons cited in the report for seeking encore careers included: "to continue learning and being challenged," "to work with and help others" and "to gain a sense of meaning and accomplishment."
Technology has made it easier for older adults to learn new job skills. Massive open online courses, or MOOCs, such as Coursera allow you to take classes in a variety of subjects to help you stay competitive in the job market.
If you want to get a head start on a new challenge in retirement, read our blog "6 Helpful Tips for Finding a Meaningful Career in Retirement."