Be a Retirement Nostradamus: Predict Your Health Care Costs
November 18th, 2016 | 4 min. read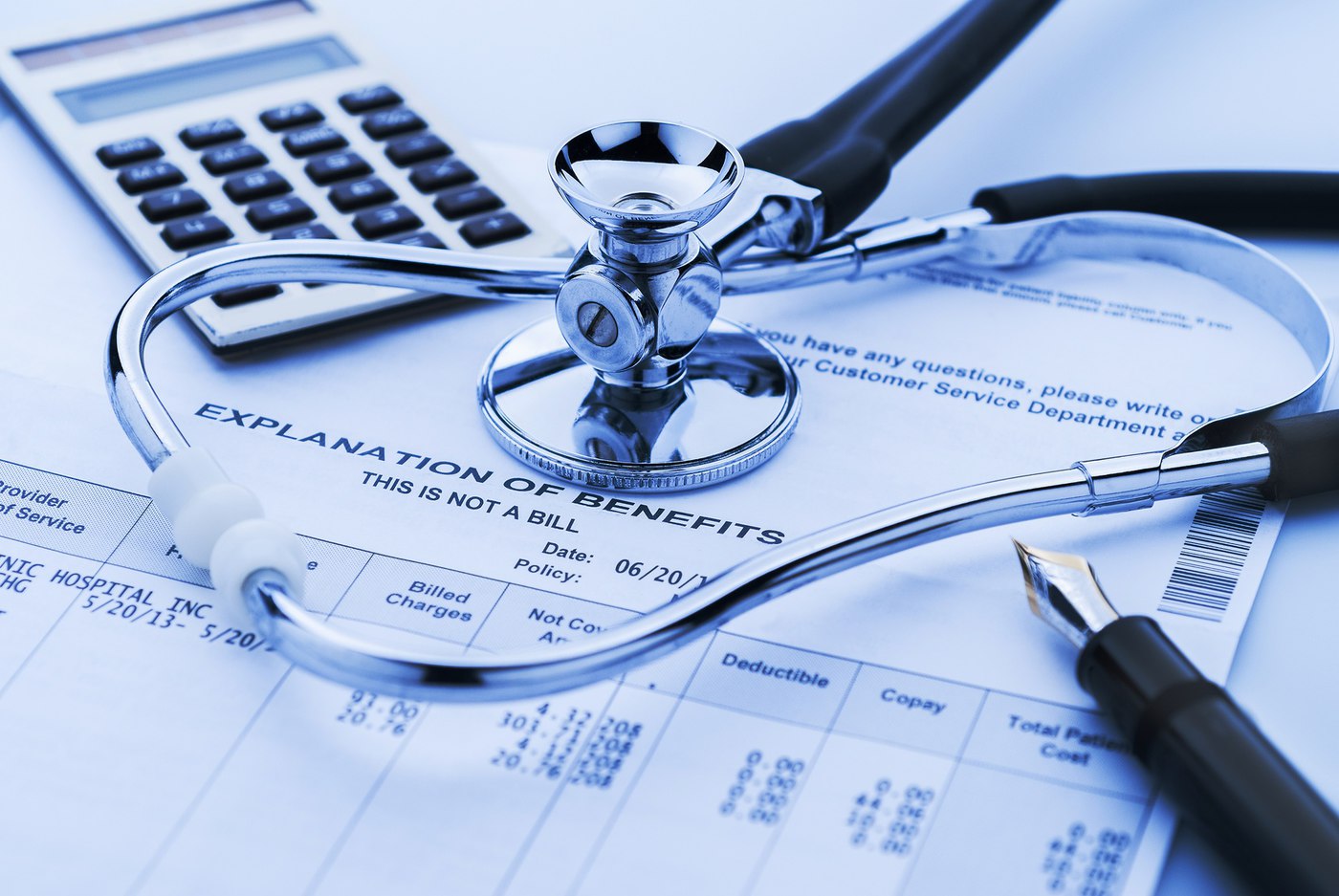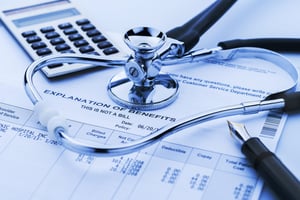 Pop quiz: How much do you think you'll spend on health care in retirement?
Less than $50,000
$100,000
$200,000 or more
Don't know
If you're like most people, you struggled answering this question and chose D. In a worldwide retirement survey by HSBC, 67% of working age Americans were unable to predict their health care costs in retirement.
Additionally, only about a third of adults in their 50s and 60s have tried to determine how much they'll need to save for future health care costs, according to one AARP survey. Those who tried generally underestimated their costs. The survey found that 42% thought they would need less than $100,000 to cover out-of-pocket expenses while 16% said less than $50,000.
Health care will likely be your largest retirement expense.
HealthView Services estimates that a 65-year-old couple in good health can expect to pay $266,000 in Medicare premiums alone throughout their retirement. Meanwhile, Fidelity provides a slightly lower estimate of $260,000. Keep in mind these figures do not include out-of-pocket or long-term care costs.
Unfortunately, predicting your future health and health care needs is difficult. As physicist Niels Bohr said: "Prediction is very difficult, especially if it's about the future."
However, with ample planning you can manage the potential costs of care and ensure that you have the right amount of coverage.
Need help fitting health care costs into your retirement plan? An Advance Capital adviser can help you build a retirement plan for all your needs.
Here are some things to know to help you get a clearer picture of your health care costs in retirement.
The costs and shortfalls of Medicare
When you turn age 65, you are eligible for Medicare. Monthly premiums for Part A, which covers basic hospital services, are free for most people. If either you or your spouse paid Medicare payroll taxes for at least 10 years you are fully insured. Meanwhile, the average monthly premium of Part B, which covers doctor visits, was $104.90 in 2015.
The prescription drug coverage portion of Medicare (Part D) and any supplemental coverage, such as Medigap and Medicare Advantage (Part C), is provided by private insurers, so their costs vary based on the plan and where you live.
Medicare does not cover everything. For example, it does not cover long-term care and dental and vision coverage. According to the Employee Benefits Research Institute (EBRI), Medicare covers around 62% of a person's healthcare costs.
Therefore, chances are that you will pay some out-of-pocket medical expenses during retirement. How much depends on your retirement date, health and life expectancy.
Your health care costs will likely grow
You can expect your health care expenses to increase throughout retirement. For one, you cannot beat age. And, as you get older the more care you will likely need. On top of that, health care costs continue to rise.
For a couple at age 65, the average monthly healthcare cost is $583, according to HealthView. By the time they reach age 85, you can expect that amount to more than double. Additionally, as reported by the Bureau of Labor Statistics, health care inflation rose 5.5% compared to the general inflation rate of 1% over the past year.
Women, expect greater health care costs than men
Living longer has its drawbacks, too. Because women live longer, a 65-year-old woman can expect to spend $22,000 more in total health care costs over the course of her retirement than a man her same age.
An online health care cost calculator can help
If you would like a personalized estimate of your health care expenses in retirement, AARP offers a sophisticated online Health Care Costs Calculator. It allows you to provide specific information – your height and weight, whether you smoke or not, retirement date – and generates an estimated number of your total health care costs during retirement, including how much is covered by Medicare and your estimated shortage.
You can also experiment with various health conditions to see how they may impact your costs.
For example, let's use the calculator to estimate the health care costs of a 55-year-old male who is of average height and weight. He suffers from high cholesterol and has a family history of prostate cancer.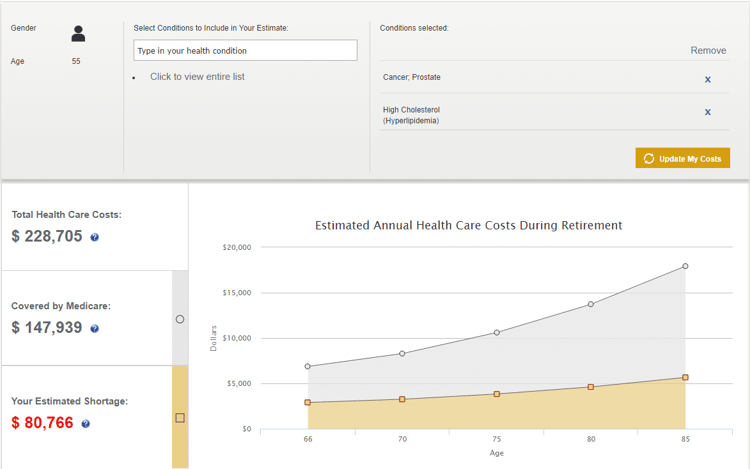 His estimated healthcare costs are $228,705, of which $80,766 is not covered by Medicare.
The tool also provides steps you can take that may improve your health and lower your expenses. If our subject were to lose weight and lower his cholesterol, his total estimated health care costs would drop by $55,140 to $173,565.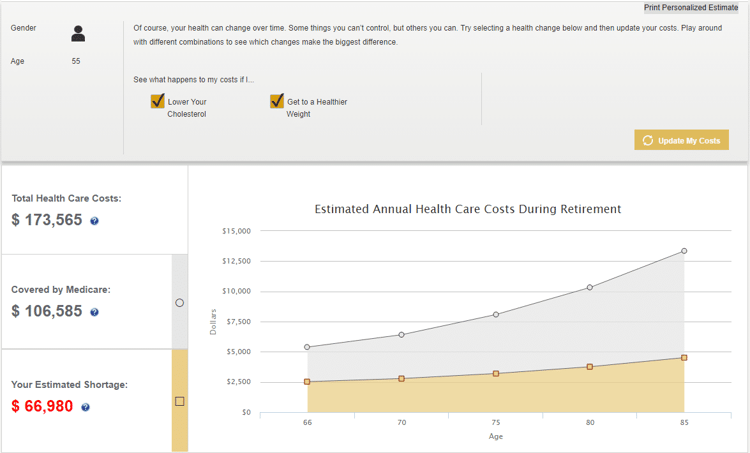 Review your options
Some employers offer health insurance to retired employees. Be sure to find out if this option is available to you.
For everyone, it's important to plan ahead in order to help prevent health care costs from derailing your retirement. Meet with your adviser to determine how best to integrate health care costs into your overall retirement saving and investing plan. You won't pay all your care costs as once so you can keep some of that money invested so that it may grow during your retirement. It's also important to build an emergency fund, from which you can cover any unexpected expenses.
Prevention may be the best health care cost saver
Abe Lincoln once said, "The best way to predict the future is to create it." Fortunately, there lifestyle factors you can control to create a livelier, healthier and financially secure future.
Perhaps, the best way to ensure that your health care costs are low and fit in your financial plan is to take preventive measures. Join a gym. Eat a healthy diet. Stop smoking. Laugh a lot. Play games.
Although the financial benefits of these activities are not apparent, they can have a very significant long-term impact. When you play a game a tennis and then grab a healthy lunch with friends, you're not just enjoying life, you're likely saving money, too.
In summary, make health a priority long before you stop working. Consider what your health care needs are and how they may change in retirement. In addition to your financial goals and obligations, make sure that potential health care needs are included in your retirement plan. That way, it'll be a good prediction that you'll live a happy and healthy retirement.
LEARN MORE
Read these related articles:
Speak with an Advance Capital adviser who can help create a comprehensive financial plan for all your financial goals – no cost, no obligation. Fill out the contact form or call 800-345-4783.