Feel More Confident with This Retirement Planning Checklist
April 11th, 2019 | 4 min. read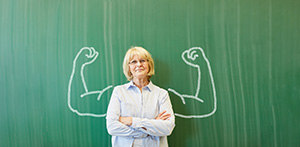 A comfortable retirement isn't achieved on hope alone. It involves a series of important decisions, which put together can seem overwhelming. But it doesn't have to be that way.
Preparing for retirement can feel less daunting when you take it step by step. As Chinese philosopher Lao Tzu said: "A journey of a thousand miles must begin with a single step." So, we've compiled a basic checklist to help you on your way.
Make consistent contributions to your retirement accounts
Try to save as much as you can. We recommend saving 10% to 15% of your paycheck for retirement. That includes the employer match, if available, for those saving in a workplace plan. Of course, it never hurts to save more. For 2019, the annual contribution limits for workers age 50 or older who participate in a 401(k), 403(b), most 457 plans and the federal TSP is $25,000 ($19,000 for those under age 50).
Learn more about managing a 401(k)
If you don't have access to a company retirement plan, consider opening an IRA. Contributions to traditional IRAs may be tax-deductible, depending on your income. Roth IRAs, meanwhile, let you withdraw money tax-free. Both traditional and Roth IRAs investment earnings grow tax-deferred. You can also choose from all publicly available investments instead of a limited menu and you can elect to have your IRA directly managed by a financial adviser. The annual contribution limit for traditional and Roth IRAs is $7,000 for those age 50 and older ($6,000 for those under age 50) in 2019.
Learn more about saving and investing in an IRA
Decide the age at which you would like to retire
For most people, a realistic retirement age isn't a matter of when you want to retire but rather when you can retire. Choosing a retirement age can be harder than it seems. It depends on how much you need to save, what retirement income sources you have and when you can access those sources.
Further, retirement is a big life event. You also need to be mentally and emotionally prepared to make the change.
Here's how to determine your "number"
Ask yourself these questions to help planning for retirement
Don't hesitate to get professional help
Retirement involves a lot of moving parts and decisions that require research and information. Working with a financial adviser and developing a written retirement plan can help establish order – and confidence. Of people with a written retirement plan, 93% were "confident" and/or "happy" with it, according to a Franklin Templeton survey.
There are no one-size-fits-all retirement plans. That's why an Advance Capital financial adviser will create a personalized retirement plan solely around your goals and financial needs, and then guide you along the way and during retirement.
Work with an Advance Capital adviser
Start building a retirement plan
Simplify your portfolio
By the time you retire, you may find your investment portfolio spread out over several retirement accounts. That makes it difficult to get a clear picture of your investments and turn your savings into a sustainable source of income.
Consolidating your accounts allows you to manage all your assets under one cohesive investment strategy. With all your retirement savings in one place, it's easier to monitor your progress and make changes as needed. And, you can save on fees.
Learn what other benefits come from consolidating retirement accounts
Build a budget around your estimated retirement expenses
Without children in the house and no work-related expenses, most people can expect their spending to drop in retirement. However, some expenses stay relatively the same while others – health care – will likely grow. Therefore, it's important to have a new budget that reflects your new lifestyle and needs.
Compare your retirement expenses to the average retiree
Work at eliminating your debt
The Transamerica Center for Retirement Studies found that an alarming 40% of retirees cite "paying off debt" as a current financial priority, including credit cards, mortgage and other consumer debt. If you're unable to enter retirement free of debt, it doesn't necessarily mean you should put retirement on hold. But it does mean you need a plan to pay it off. Without one, you face the hard reality of having to pay for things from your past instead of finally living the dreams you've always had for your future.
Tips for getting rid of debt before you retire
Determine an appropriate withdrawal strategy
When you turn age 59 ½, you can start to take out funds from your retirement accounts without having to pay an early withdrawal penalty. It's essential to establish a reasonable withdrawal rate to ensure you don't out live your money. The right withdrawal rate depends on personal factors, such as your overall wealth, expenses, other income sources and retirement age.
Another thing to account for is required minimum distributions (RMDs) from your retirement accounts, which you must start taking no later than April 1 in the year after you reach age 70½.
Learn more about safe withdrawal rates
Choose when to file for Social Security
The earliest you can file for Social Security is age 62, though you'll receive a reduced benefit. Alternatively, you can maximize your benefit (approximately 75% greater than the early benefit at age 62) by waiting until age 70 to file. The right age for you to file depends on several factors, ranging from your health, the size of your retirement savings, what other income sources you have, and your marital status. The goal should be to maximize your total income, not just one income source.
Learn more about filing for Social Security
Prepare to enroll in Medicare and supplemental insurance
At age 65, you are required to enroll in Medicare, the national health insurance program that covers hospital services and emergency care (Part A) and doctor's office visits (Part B). You are required to enroll in Medicare on time or you may be subject to late-enrollment penalties and unpaid insurance claims.
It's important to know that these two parts don't cover all health care benefits for individuals, such as prescription drugs, dental and basic vision. So, you should also be ready to explore supplemental coverage, including Medigap and Medicare Advantage (Part C).
Tips for navigating Medicare and finding the right plan
Explore options for long-term care
You may never need long-term care, but you'll be better off if you prepare for it. That's because long-term care is very expensive, and Medicare doesn't cover it. Consider that the national median annual cost of a semi-private room in a nursing home is $85,775, according to the Genworth Cost of Care Survey.
Essentially, you can rely on friends and family for care, use your personal savings, buy a long-term care insurance or hybrid life insurance policy, or access the Medicaid program. What makes sense for you is determined by several personal factors, such as your family health history, current health, age, and level of wealth.