Forbes 2020 Top Next-Gen Wealth Advisors
July 27th, 2020 | 1 min. read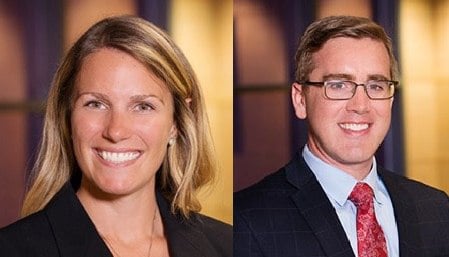 We are pleased to announce two financial advisors – Ryan Sheffer and Terra Hohf – have been named to Forbes magazine's 2020 Top Next-Gen Wealth Advisors list.
The list recognizes the country's top next-gen advisors, who "represent the future of the wealth management industry." The 2020 Top Next-Gen list includes 500 rising advisors who help manage over $1 trillion in client assets.
"We are extremely honored to be named as top young wealth advisors," said Ryan Sheffer, financial advisor and CERTIFIED FINANCIAL PLANNER™. "Yet I think we agree that we're most grateful for the opportunity to help clients achieve their financial goals."
The Forbes Next-Gen Wealth Advisors list is produced independently by Forbes magazine in collaboration with SHOOK Research, a financial services rating firm. Each advisor is chosen based on an algorithm of qualitative and quantitative criteria, including in-person interviews, industry experience, compliance records, revenue produced and assets under management. There are no fees or other considerations required for nomination.
Sheffer and Hohf are two of only a handful of independent financial advisors (i.e., not representing a national corporation) listed for the state of Michigan.
"Recognition as a top advisor is the direct result of the tremendous support from our clients and our firm," said Terra Hohf, financial advisor and CERTIFIED FINANCIAL PLANNER™. "It's our belief that helping people reach their financial goals is about building relationships, not just crunching numbers."
The Advance Capital Management team of advisors manages $3 billion in assets for more than 5,000 investment advisory clients. For more than 30 years, the firm has helped thousands of people with personalized financial planning and investment management solutions. Headquartered in Southfield, MI, it also has offices located in Grand Rapids, MI, Independence, OH, Lisle, IL and Dallas, TX.
The Financial Times named Advance Capital a Top 300 Financial Adviser and InvestmentNews magazine named the firm a Top Fee-Only RIA. The firm has also been recognized as a Top Financial Advisor Firm in Michigan, Ohio and Illinois by Investor.com. It was named one of the largest money managers in metro Detroit by Crain's Detroit Business, one of the largest RIAs by Crain's Cleveland Business, and a top area wealth management firm by Grand Rapids Business Journal.