How Much Should You Be Saving for College?
June 15th, 2022 | 3 min. read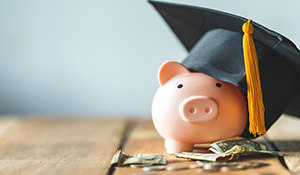 It's a question often asked by parents, from new parents to grandparents: how much should I be saving for college?
The challenge is that the cost of college continues to rise and the rules surrounding financial aid are tricky. Today, families are forced to put aside more money over a longer period of time to cover educational expenses. Since 1980, college tuition and fees are up 1,200%, while the Consumer Price Index (CPI) for all items has risen by only 236%.
In other words, trying to hit a savings target that can change dramatically from age 0 to age 18 takes careful planning.
You can start by getting a general idea of how much to save for college, as well as considering some ways to lower your student's costs.
Figuring out how much to save for college
The most important part of saving for college is investing as early as possible. Since compound interest is interest earned on both the initial investment and the interest you've accumulated, your gains will be much larger if you start investing at birth.
A simple guide for how much parents should be saving is the one-third rule: one-third of the cost of a four-year college education will come from parents' income and financial aid, one-third from savings and investments and one-third from student loans. In fact, in Sallie Mae's 2018 "How America Saves for College" survey, parents predicted savings would cover 29% of their child's college costs on average.
Once you decide what percentage of your child's college education you're willing to fund, you'll have to figure out how much that will cost you each month. You can use the average total published charges – tuition, fees, room and board – by The College Board to help set your savings goal:

Source: The College Board, Trends in College Pricing and Student Aid 2021
As an example, let's say you decide to prepare for your child to attend a four-year, in-state public college. On average, you'll pay $90,760 over four years in today's dollars. If your child is now 5 years old, you'll start paying for college in 13 years. Starting with today's annual published price, that four years of in-state public college will cost about $184,410 in 13 years, using an average tuition inflation rate of 5%.
If you plan to pay for 30% of your child's four-year college attendance, that would be about $55,323. That would mean saving around $355 per month for the next 13 years.
While this may seem like a lot, investing any amount of money each month is a good idea. Set up automatic transfers to your investment account so you don't have the temptation to spend the money once it's in your checking account. And if you can't put a lot away right now, over time, you can ramp up your monthly contributions.
When it comes down to it, you'll need to reconcile your numbers with what you can afford. Saving for college is important, but it needs to work with your other priorities, like saving for retirement or building an emergency fund.
Simple Ways to Help Lower College Costs
The high cost of higher education forces many parents to reevaluate their financial priorities. What can you sacrifice from your budget? How much can you contribute toward college, if anything? Should you focus on saving for college instead of saving for retirement?
It's important then to consider other ways to help lower and pay for college costs. Some of those options include:
Help find scholarships and grants: Sites like com allow you to search among all available scholarships and find those that best match your child's background, field of study, sport, skill, interest, achievement or other attributes.

Encourage your student to consider in-state institutions, as they charge lower tuition for residents.

Think about attending a community college for the first two years to complete all prerequisite courses for a fraction of the cost of a four-year university.

Attending a local university can be an easy way to steeply reduce the cost of transportation and lodging.

Weigh the costs and benefits of attending a private college compared to cheaper public schools.
Current trends show that paying for college isn't going to get any easier. The best thing you can do is to plan ahead and explore all the ways you can help your student succeed. If you have questions about any of these college saving tools – whether you qualify or if they are right for you student – you may want to seek the help of a financial adviser.
Learn more about college planning by downloading our free ebook: Saving for College: Financial Tools to Help Secure Your Student's Future. It takes you through the most common college savings tools and their impact on financial aid.