Do You Know Your FERS Retirement Age?
September 22nd, 2021 | 3 min. read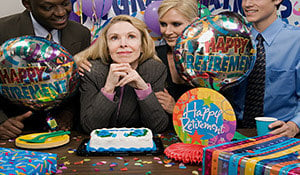 From postal workers to VA doctors, we've had the pleasure of helping many federal government employees reach retirement. So, what is retirement age for government workers? Is it the conventional age of 65?
U.S. Census Bureau data shows that the retirement age in the United States averages 65 for men and 63 for women. That is lower than what is considered "full retirement age" for Social Security purposes, which is age 67.
The Federal Employees Retirement System ("FERS") has established a minimum retirement age that is actually lower than age 65. In fact, the average age federal employees voluntarily retire is 63.
MINIMUM FERS RETIREMENT AGE
The FERS minimum retirement age ("MRA") is age 55-57, depending upon your birth year. Federal employees born before 1948 have the lowest MRA of age 55 while those born in 1970 or later have the highest MRA of age 57.
To receive your full FERS benefits, however, you must meet one of three criteria that takes into consideration both your age and years of service.
Either:
you've reached your MRA and have 30 years of service; or
you're age 60 and have 20 years of service; or
you're age 62 and have five years of service.
FERS EARLY RETIREMENT
Upon retirement, FERS will pay you a monthly benefit based upon your years of service worked under FERS, your income and the age you retire. Hence, the basic benefit is often known as the monthly annuity.
To be eligible for unreduced benefits (immediate retirement) you must meet one of the following criteria:
Must reach Minimum Retirement Age ("MRA") (age 55-57, depending upon your year of birth) with 30 years of service
Age 62 with 5 years of creditable service
Age 60 with 20 years of creditable service
But federal employees can be eligible for early retirement if they have reached their MRA and have 10 years of service.
The downside is that those who elect early retirement will have their basic benefit permanently reduced by 5% for each year they retire before age 62. That could be a substantial amount of guaranteed retirement you would forgo.
Further, if you elect the monthly annuity prior to age 62, you are not eligible for a cost-of-living adjustment (COLA) until you reach age 62. Your first COLA is prorated for the number of months you receive your monthly annuity before December 1. It is annualized each year thereafter.
Also, your basic benefit amount is calculated by using one of two multipliers – 1% or 1.1% -- based on your retirement age. If you elect to retire prior to age 62, the pension calculation does not change to the higher multiplier of 1.1% when you turn age 62.
Essentially, your pension is permanently 10% lower than if you begin your pension at age 62.
This chart shows how a FERS annuity is impacted by your retirement age:

Simply put: if you choose to retire early, before age 62, then you should be comfortable knowing that you will receive a lower FERS basic benefit monthly payment.
BEST DATE TO RETIRE WHEN YOU REACH FERS RETIREMENT AGE
Another thing to keep in mind is that there are in fact "best" days of the year to retire from FERS. That's because, once you retire as a FERS employee, your retirement date becomes the first of the following month. Your first FERS annuity check then will be sent to you on the first day of the following month after retirement. For example, let's say you retired on February 14. Your annuity retirement date would be March 1 and your first FERS annuity check would arrive on April 1.
For most government employees used to getting paid twice a month, that gap can be a little rough to navigate. But you can reduce the impact of this gap with a little planning. We recommend a couple steps here: The Best Dates to Retire from FERS.
OTHER KEY RETIREMENT MILESTONES
Your MRA isn't the only important retirement milestone you should know. At certain ages, you gain more flexibility – and responsibility – with your retirement savings and benefits. A financial plan will show you the appropriate steps to take as you hit each one.
50: Begin making catch-up contributions to your Thrift Savings Plan account.
59 ½: Make penalty-free withdrawals from your TSP account.
62: Earliest age at which you can claim Social Security benefits.
65: Enroll in Medicare Part A and Part B.
67: Full retirement age for Social Security.
70: Claim the maximum benefit from Social Security.
72: Begin taking required minimum distributions from traditional retirement accounts.
Learn more about government retirement benefits, including the FERS basic benefit, the Thrift Savings Plan and other retirement planning steps, by downloading our free, easy-to-understand guidebook, FERS Made Simple: Understanding and Maximizing Your Benefit. (click the button below)

Kurt Mears is a Chartered Retirement Planning Counselor who provides federal workers with comprehensive wealth management solutions, such as retirement planning and investment advice, to help them achieve their financial goals. Contact him for a free, no obligation financial consultation.

Daniel Amiot is a CERTIFIED FINANCIAL PLANNER who helps federal employees navigate the complexities of the FERS, TSP, and other government benefits. Contact him for a free, no obligation financial consultation.
As a financial adviser, Kurt takes a comprehensive approach to help clients work toward their financial goals by providing wealth management tools including retirement planning, investment portfolio advice and tax strategies. He specializes in federal government benefits and is a Chartered Retirement Planning Counselor.