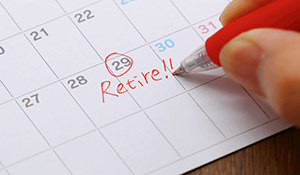 By Kurt Mears & Daniel Amiot, Advance Capital Management Financial Advisers
A common question federal employees ask us is this: I have heard there are "best" days of the year to retire from FERS – is this true? The answer is indeed, yes. In fact, the date you retire from FERS can carry significant importance based on your cash flow needs.
Here's why:
Once you retire as a FERS employee, your retirement date becomes the first of the following month. Your first FERS annuity check then will be sent to you on the first day of the following month after retirement.
For example, let's say you retired on February 14. Your annuity retirement date would be March 1 and your first FERS annuity check would arrive on April 1.
To complicate matters just a little more, when your first check does come, it will only cover between 40- 90% of your full annuity check as the government reviews and verifies your employment record. The full payments should start shortly thereafter.
For most government employees used to getting paid twice a month, that gap can be a little rough to navigate. The good news is the government will send you a cash payout of unused annual leave within 30 days of your retirement. Most retirees use this to pay bills and expenses during the gap between their last working check and their first full annuity check.
So, what can you do about this gap? We recommend two simple tricks.
First, it makes sense to try to get the most annual leave accrued possible before retiring. To acquire the maximum leave from your very last pay period, you need to retire on the last day of the period – usually the second Saturday. Simple, right?
Second, it makes sense to reduce the time of the gap between your last paycheck and first annuity paycheck. Another simple solution: retire towards the end of the month, which will cut this time down to 4-5 weeks, instead of 7-8 weeks if you retire early in the month.
Now, you can merge these two simple strategies and retire at the end of a pay period that finishes towards the back of the month. That means these are the best dates for federal employees to retire during the rest of 2021:
July 31
August 28
December 31
What is your date? Let us know!
If you have any questions, want to plan a retirement date in the next few years, or would like some guidance on what this means for you, please reach out to us – we would love to help you.
Also, you can learn more about federal retirement benefits by downloading our free, easy-to-understand guidebook, FERS Made Simple: Understanding and Maximizing Your Benefit.

Kurt Mears is a Chartered Retirement Planning Counselor who provides federal workers with comprehensive wealth management solutions, such as retirement planning and investment advice, to help them achieve their financial goals. Contact him for a free, no obligation financial consultation.

Daniel Amiot is a CERTIFIED FINANCIAL PLANNER who helps federal employees navigate the complexities of the FERS, TSP, and other government benefits. Contact him for a free, no obligation financial consultation.