Good News: New Money Manager for Thrift Savings Plan Funds
June 9th, 2021 | 2 min. read
By Kurt Mears & Daniel Amiot, Advance Capital Management Financial Advisers
One of the many roles of an investment adviser is to monitor those who manage our clients' money – mangers of mutual funds, ETFs and retirement plan investment options. This is an important component because changes can (and do) occur that will alter the original strategy, objective or focus of the investment. When this happens, it is essential to evaluate those changes to make sure the manager continues to fulfill their purpose in our portfolios or retirement plan lineups.
This type of major change is occurring within the investment options of the Thrift Savings Plan. The good news is we believe these changes are for the better!
What to know about the new Thrift Savings Plan funds manager
The Federal Retirement Thrift Investment Board (FRTIB) recently announced they are adding State Street Global Advisors (SSGA) Trust Company as a money manager to the C, S and F funds. They will be serving alongside the current money manager BlackRock Institutional Trust Company (BlackRock).
These investment companies are comparable. SSGA and BlackRock both hold similar index-heavy approaches to management, so the expected performance should not deviate significantly. So how does this represent a significant change?
The benefit of multiple TSP fund managers
Those familiar with Advance Capital Management's investment philosophy know we are not affiliated with any management company. We evaluate, select and monitor mutual funds and ETFs from any financial manager that meets our due diligence criteria. This is supported by our belief, proven over time, that no investment manager is the best in every asset class. You will always find multiple investment managers within our portfolios.
With that background, you can understand our position of frustration that, until this point, BlackRock was the SOLE manager of every TSP fund except the G fund (which is made of government securities and managed internally by the FRTIB). It is inherently imprudent to have a single corporation in control of almost every asset in one of the world's largest defined-benefit plans. Therefore, the addition of a separate investment manager to share in the work increases diversification and accountability.
While exploring how we got into this position in the first place is outside of the scope of this blog, we applaud the FRTIB and strongly encourage further diversification away from a single-manager approach for federal government retirement benefits.
Also, you can learn more about federal retirement benefits by downloading our free, easy-to-understand guidebook, FERS Made Simple: Understanding and Maximizing Your Benefit.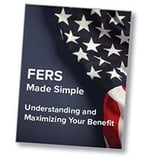 Kurt Mears is a Chartered Retirement Planning Counselor who provides federal workers with comprehensive wealth management solutions, such as retirement planning and investment advice, to help them achieve their financial goals. Contact him for a free, no obligation financial consultation.

Daniel Amiot is a CERTIFIED FINANCIAL PLANNER who helps federal employees navigate the complexities of the FERS, TSP, and other government benefits. Contact him for a free, no obligation financial consultation.
As a financial adviser, Kurt takes a comprehensive approach to help clients work toward their financial goals by providing wealth management tools including retirement planning, investment portfolio advice and tax strategies. He specializes in federal government benefits and is a Chartered Retirement Planning Counselor.