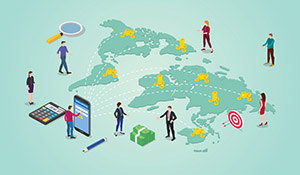 By Kurt Mears & Daniel Amiot, Advance Capital Management Financial Advisers
You don't need a math degree to understand how the FERS annuity retirement benefit is calculated. But it's not simple arithmetic either. Because of the complexity, there is a lot of confusion about what factors count. One common example is locality pay.
The FERS basic benefit is based on years of service, salary (highest three consecutive years), a cost-of-living adjustment and a specific multiplier.
But that's not all.
There are millions of federal employees across the world working and living in vastly different economic locations. A question we are asked regularly: Is my locality pay included in the FERS annuity calculation?
If you have asked that same question, here's what you should know.
What is locality pay?
First, it helps to define locality pay.
Essentially, locality pay is an adjustment to your base pay that compensates you for higher living expenses in the area where you work. For example, someone who works in an extremely expensive city (ex., San Francisco) receives higher compensation than someone who works in a much more affordable location (ex., Omaha, Nebraska).
So, does FERS include locality pay in your annuity?
Yes, the locality pay adjustment is included as part of your base pay when calculating your annuity. There is no adjustment made to where you live after you are retired.
Although locality pay is part of the FERS annuity calculation, it's not as big of a factor as other variables that go into the benefit formula.
A more important FERS annuity factor
What's more important than locality pay is how your salary factors into the FERS benefit calculation. Remember, it is your top three consecutive years of pay from which the annuity is calculated. Those are not necessarily your last three years. Keep this in mind if you ever consider the ramifications of a late-career relocation on your retirement.
If you have any questions or would like some guidance from a financial adviser on what this means for you, please reach out to us – we would love to help you.
Also, you can learn more about federal retirement benefits by downloading our free, easy-to-understand guidebook, FERS Made Simple: Understanding and Maximizing Your Benefit.


Kurt Mears is a Chartered Retirement Planning Counselor who provides federal workers with comprehensive wealth management solutions, such as retirement planning and investment advice, to help them achieve their financial goals. Contact him for a free, no obligation financial consultation.

Daniel Amiot is a CERTIFIED FINANCIAL PLANNER who helps federal employees navigate the complexities of the FERS, TSP, and other government benefits. Contact him for a free, no obligation financial consultation.