Make Hiring a Financial Adviser Easier
August 29th, 2019 | 3 min. read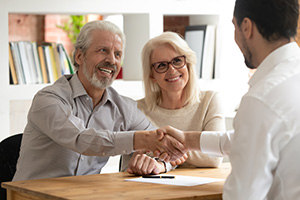 Hiring a financial adviser is a good way to boost your chances of achieving your financial goals. Studies have shown that people who work with an adviser save more and feel more confident in their financial futures than those flying solo. Yet many people still hesitate to take this important step.
One reason is the uncertainty of knowing who to trust with their hard-earned money. Will an adviser act in your best interests, or just sell you products to line their own pockets? Another reason is the time and effort it can take to find the right person as your financial guide.
No matter the reason, nothing should prevent you from working toward your best financial life. Here are some steps that will help you gather the most important information you'll need, and help you feel more confident in hiring a financial adviser you trust.
Consult family or friends
It goes without saying the people closest to you have your best interest in mind. Therefore, they're unlikely to steer you to someone who doesn't do the same. Although people are not always comfortable talking about money, it won't hurt to ask family, friends or co-workers who helps them manage their finances. Of course, your financial situation may be different from "Uncle Joe" or "Jane in accounting". So, you want to be sure their financial adviser provides the appropriate services for your specific needs.
Search online
These days, the preferred way of finding anything is by searching online. And, financial advisers are no exception. Simply type "financial adviser" and your location (ex., financial adviser in Southfield) in a search engine and a list of relevant results should appear. You'll be able to find not only the names of financial advisers nearest to you, but also client reviews, award announcements and news stories, all of which can indicate what quality of service you may receive.
Review each adviser's website
Are the advisers you're considering fiduciaries? A fiduciary adviser is someone who manages a person's assets on their behalf and solely in their best interest. Registered investment advisors, such as Advance Capital Management, are regulated under the fiduciary, or "trust," standard, which is the highest legal standard.
This is one of the important things to look for in an adviser. After all, you want someone who puts your best interests first. You can easily find out if an adviser is a fiduciary by visiting their website, as it should state whether they are an RIA or not.
But that's not all you can find. A financial adviser's website likely includes details on what services are offered, bios and credentials, their investment philosophy, the firm's culture and more.
Determine what services you need most
Every person's financial needs are different. And not all financial advisers can serve each person the same way. Some advisers specialize in certain (areas). For example, some may only help you build a financial plan and some may only help you build an investment portfolio.
Before you search for a financial adviser it's important to know what services you need (retirement planning, tax planning, Social Security strategies, etc.). Then look for advisers who can meet most of those needs. You probably want to avoid having to work with – and pay – separate professionals. Our philosophy is that working with one firm for your financial planning and asset management needs is more convenient and cost-effective. It can help ensure everyone is on the same page. Instead of juggling multiple people and viewpoints, you work with a single firm and strategy.
Read their ADV
Professional investment advisers are required by the Securities and Exchange Commission to submit Form ADV annually. This document gives you an inside look at an adviser and how they operate. It defines important considerations such as investment strategy, fee structure, account minimums, key personnel and any disciplinary action taken against the adviser.
Many advisers make their ADVs available to download through their website. You can also attain a copy directly through the SEC's Investment Adviser Public Disclosure database.
Do a background check
If your adviser has any rulings against him or her, it's important to know what they are. You can search through government websites such as the Securities and Exchange Commission's Central Registration Depository and the Financial Industry Regulatory Authority's BrokerCheck. Simply type the adviser's name in the search field and you'll find any past disciplinary action, registrations or licenses and educational and career histories.
The bottom line
Hiring a financial adviser may not be as easy as hiring a mechanic. But it shouldn't be. You want a trustworthy financial professional who you'll enjoy working with for many years. Therefore, think of it not as a business transaction but as a long-term partnership.