4 Advance Capital Advisors on Forbes 2021 Top Next-Gen List
September 28th, 2021 | 1 min. read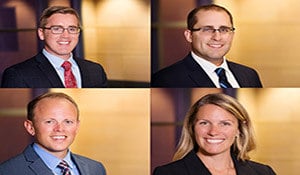 We are happy to recognize four Advance Capital Management financial advisors – Ryan Sheffer, Michael Hohf, Daniel McHugh and Terra Hohf – have been named to Forbes magazine's 2021 Top Next-Gen Wealth Advisors list.
Round of applause please!
You can view the entire Forbes list here.
It honors the country's top next-gen advisors, who "represent the future of the wealth management industry." The 2021 Top Next-Gen list includes 500 rising advisors who help manage over $1 trillion in client assets.
This is a remarkable achievement, as the Forbes Next-Gen Wealth Advisors list is produced independently by Forbes magazine in collaboration with SHOOK Research, a financial services rating firm.
Each advisor is chosen based on an algorithm of qualitative and quantitative criteria, including in-person interviews, industry experience, compliance records, revenue produced and assets under management. There are no fees or other considerations required for nomination.
Perhaps, what is most remarkable is that the four Advance Capital advisors are the only independent financial advisors (i.e., not representing a national corporation) listed for the state of Michigan.
This is not the first time they have had the honor of appearing on one of Forbes wealth advisor lists.
Ryan Sheffer, Michael Hohf and Daniel McHugh were also named this year to the Forbes Best-in-State Wealth Advisors list. While Terra Hohf was named to the 2021 Forbes Top Women Wealth Advisors list.
We are extremely honored to have advisors from our team named as top wealth advisors, but we're most grateful for the opportunity to help clients achieve their financial goals.
That is a clear indication that recognition as a top advisor is the direct result of the tremendous support from our clients.
After all, it's our belief that helping people reach their financial goals is about building relationships, not just crunching numbers.
Thank you to all our clients for making this possible!