How Much Should You Pay for a Financial Adviser?
December 21st, 2022 | 6 min. read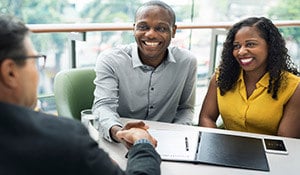 The purpose of building wealth is to create a fulfilling and secure financial future. And, the role of a financial adviser is to help you do that. But, as with any profession, advisers don't work for free. So, how much exactly should a financial adviser cost?
Unfortunately, many people have no idea – even those who already work with a financial adviser.
Consider a report by the FINRA Investor Education Foundation that found nearly a fifth of investors don't know what they pay in investment fees. Of those investors who receive help from a financial professional, 60% don't think they're paying for that advice.
It's okay to be confused about investment fees because investment fees are confusing.
The confusion stems from the fact that the answer to the question (how much does a financial adviser cost?) is: it depends.
It depends on personal factors, such as the services you need, your assets and your preferences for working with a professional. But the cost is primarily determined by how a financial adviser is paid.
Similar to, say, personal trainers, financial advisers charge different rates and use different payment arrangements depending on the different services they offer and the licenses they hold.
Here are the three most common ways financial advisers charge for their services:
A percentage of assets under management

An hourly, annual or flat fee

Commissions on investments or products sold
Advisers who charge a percentage of assets under management or a flat fee are known as fee-only advisers. While those who earn commissions are commission-based advisers.
When it comes to getting valuable financial advice, no one should have to worry about being overcharged or worse, scammed. Hopefully, this article will help clear up any confusion you may have about the cost of a financial adviser.
Whether you're shopping around for a financial adviser or already working with one, here's an overview of the different ways financial advisers get paid to help give you some peace of mind. We'll cover the typical costs for an adviser and what type of investor may be right for each one.
The cost of fee-only AUM financial advisers
Most financial advisers are paid by charging a percentage of your assets under management (AUM).
Under this payment model, an adviser will withdraw a certain percentage of your account as an advisory fee. The fee is typically deducted quarterly, monthly or annually.
A standard advisory fee is around 1%.
What does that mean in dollar terms? Here's a simple example:
If you invest a $1 million portfolio with a financial adviser who charges 1% of AUM, then you would pay a $2,500 quarterly advisory fee (1,000,000 x 0.01/4 = 2,500).
However, fee-only advisers commonly use a sliding scale. The higher your assets under management, the lower the fee percentage.
For example, you may pay 1% of AUM for a $1 million account, but 0.75% for a $3 million account ($5,625 quarterly) and 0.5% for a $10 million account ($12,500 quarterly).
So, with a fee-only AUM financial adviser, the cost will vary based on the fee percentage and fee structure. And, since the fee is based on the size of your account, which will change based on investment performance, the amount you pay could change from statement to statement.
Who might prefer a fee-only AUM financial adviser?
Financial advisers often prefer this fee structure because it aligns the goals of both the client and adviser. The better the client does, the better the adviser does.
This is an important distinction: Fee-only financial advisers are registered investment advisers with a fiduciary responsibility to act in their clients' best interest. In other words, the government requires fiduciary advisers to be fee-only advisers.
What do you get for this fee?
Under the AUM fee structure, you typically receive access to all the services a financial adviser offers, including financial planning help and investment management. So, the adviser would help you implement your financial plan while also managing your investment portfolio.
What people may not like about the AUM fee structure is the thought of paying fees even when their account declines or when they didn't need a lot of help. But this is generally balanced by the fact your investments generally need constant attention (buying and selling funds, portfolio rebalancing, making tax-efficient withdrawals, etc.).
Ultimately, the AUM fee structure makes sense for people who want direct, ongoing support from their financial adviser. It may not make sense though for those who only want a few tweaks to their plan and would rather manage their own investments.
The cost of flat-fee financial advisers
Another type of fee-only financial adviser is one who charges a set amount on an hourly, quarterly or annual basis.
Hourly fees for a financial adviser can range in the low hundreds, from about $100 to $500 an hour, while annual fees can range in the low thousands, from about $1,000 to $5,000 per year.
Additionally, some flat-fee financial advisers may charge for each service, such as $1,000 for a financial plan.
The cost can depend on how much help a client needs.
Who might prefer a flat-fee financial adviser?
With a flat-fee financial adviser, you essentially only pay when you need the service. This may appeal to investors who need some guidance with financial decisions but are comfortable implementing the plan on their own. This often includes those who may not have complex financial situations, such as younger investors.
On the other hand, this fee structure may not work for people who want more comprehensive financial help. That's because many flat-fee advisers are not licensed to buy and sell investments on your behalf. Therefore, the implementation of your plan and the management of your investments would be your responsibility.
The cost of commission-based financial advisers
As the name states, commission-based financial advisers are compensated through investments they sell in the form of commissions and other fees. The investment provider or fund company pays the adviser a percentage of the amount you pay for each investment. Most advisers in this category are broker-dealers.
The cost of a commission-based financial adviser is hard to generalize. Primarily, because commissions are not always transparent. Again, the investment provider is technically paying the commissions, so they may not appear on your statement – even though they still come out of the dollars you invest.
It's important to be aware of the potential conflict of interest in the way commission-based advisers are paid. They have a financial incentive to sell products rather than provide financial advice.
Some financial advisers, known as fee-based advisers, charge fees for their services and receive commissions on the products they sell. They operate in a somewhat gray area.
Therefore, the difference between fee-based and fee-only advisers is important to understand. Fee-only advisers do not earn commissions. But, a fee-based adviser could be registered as a fiduciary, like a fee-only adviser, but also as a broker-dealer. At times, they can act as a fiduciary required to put your best interests first, but then at other times sell you products.
Who might prefer a commission-based financial adviser?
It's better to work with a financial adviser who is compensated for the work done for you and not for the investments they sell. But that doesn't mean a commission-based adviser won't prioritize your best interests.
An investor who is implementing their own investment strategy may prefer working with a commission-based financial adviser. Still, you will want to be sure it is one you can trust.
Most people, however, who want comprehensive financial planning services should consider hiring a fee-only adviser.
How to find out how much a financial adviser costs
In an ideal world, financial advisers would post fees on their office windows like gas stations. But that's just not reality. Instead, it's up to you to conduct your due diligence. The good news is that there are easy ways to find out what a financial adviser charges.
A good place to start is by asking a financial adviser these questions:
How are you paid?
What are the total costs and fees I would pay for your services?
Do you collect commissions or fees that won't appear on my statement?
Will you always act as a fiduciary?
If a financial adviser won't answer these questions in detail, then it's a good indication you should take your business elsewhere – quickly!
Also, the Securities and Exchange Commission requires anyone selling financial products or services to disclose their compensation in what is called Form ADV. This document gives you an inside look at an adviser and how they operate. It defines important considerations such as fee structure, account minimums and any disciplinary action taken against the adviser. Typically, you can find the ADV on a financial adviser's website.
Financial adviser costs are often worth it
We know, the line above may sound a little self-serving coming from a financial adviser.
But we believe everyone should have access to resources that help them achieve their financial goals. And cost shouldn't be a deterrent against getting professional guidance.
A financial adviser may not cost as much as you think. Financial advisers serve people from all different financial situations, so you can find one at a cost that works for you.
It'll be worth it. Don't just take it from us. In a survey from Magnify Money, 95% of people with a financial adviser said they believed that it's worth the money.
Still, given the impact fees have on investment returns, you may wonder if a financial adviser is worth the cost.
To answer that question, you have to account for the added value financial advisers provide beyond investment returns. A financial adviser can add value with tax planning strategies to limit your tax burden. Or, an adviser can devise an effective withdrawal strategy to keep you from outliving your retirement savings. Most of all, a financial adviser acts as the valuable buffer between your money and poor emotional decisions.
Advance Capital Management is a fee-only, fiduciary financial adviser. If you would like to explore the option of working with a fee-only adviser for your financial needs, fill out our contact form to schedule a call with an adviser.