Terra Hohf: Named to Forbes Top Women Wealth Advisor List
April 23rd, 2020 | 2 min. read
By Terra Hohf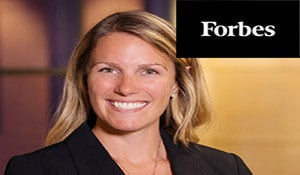 Earlier this week, I received some exciting news. Forbes magazine reached out to tell me that I have earned a spot on their 2020 Top Women Advisors list.
I would be lying if I said I did not think this was junk mail at first. Upon further review, sure enough, there was my name. Conducted by SHOOK Research, advisors are chosen based on criteria including industry experience, compliance records and assets under management. There are 24 women from Michigan on the list, and I am one of them.
I am honored to be recognized on the same list as so many amazing women in our industry. It is no secret that the financial planning industry is male-dominated, with data showing that less than one-third of all advisers are female.

When I was growing up, managing finances was generally considered a man's responsibility and financial planning a male trait. But from an early age, I wanted to change that stereotype.
My parents tell me that, as a young child, I would stand by the door when my father came home from work with my arms extended, tiny hands together forming a bowl, and request the change from his pockets. Not caring if he gave me quarters or pennies, I would take the day's leftover money and run to my room to deposit it in a piggy bank, sitting on the only shelf I could reach. Though I could barely count, I knew the importance of saving money for the future.
Flash forward to an older version of myself at Western Michigan University, still collecting any change I could find, seeking out a summer college internship. I was invited to join a Southfield wealth management firm you may know, called Advance Capital. Upon completion of my bachelor's degree, I was offered a full-time position in the Accounting department. But I ultimately desired a more personal, conversational, face-to-face impact on people's lives.
This year, I will celebrate my 13-year anniversary with Advance Capital as a financial adviser.
Fun fact: my husband is also a financial adviser. While we make it a point to keep dinner conversations on non-work topics, we do offer our own unique perspective on things from time to time. While he and other men have achieved great success, I think women have an added skill set of empathy, intuitiveness and attentiveness. We can see into what people need and hear what they may not necessarily say out loud. This role not only requires someone to have a sufficient foundation of financial knowledge, but also a desire to care for another person's success. As women, we are natural caretakers and nurturers, which I believe are crucial attributes when managing an individual's life savings and future security.
Just as each client's financial plan is custom and personal, so is their relationship with the adviser they ultimately decide to trust and partner with. While it is my name that appears on the list, this achievement is a direct result of the support I receive from my Advance Capital colleagues and the clients I have the privilege to serve.
So, I want to take this opportunity to say THANK YOU to those that have placed their faith, trust, and loyalty in myself and in Advance Capital. That childhood piggy bank I told you about sits atop my work desk, and I look at it and smile with a heart full of gratitude. I would not be on this list without you, and we share this celebration together.
TERRA HOHF is a CERTIFIED FINANCIAL PLANNER™ who provides comprehensive wealth management solutions, such as retirement planning and investment advice, to help clients work toward achieving their financial goals.