Set These Smart Financial Goals for 2021
January 6th, 2021 | 4 min. read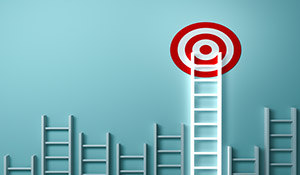 We made it – a new year and a fresh start! Sure, the pandemic is still with us. But with the distribution of vaccines, a rising stock market and an economy that is slowly rebounding, it's safe to work toward improving your financial life.
Setting financial goals for 2021 is a small step that can create a giant leap for your financial well-being. However, that doesn't mean it's easy. Consider that 80% of New Year's resolutions fail by the second week of February and only 8% of people actually achieve them.
You're going to be one of achievers. Because first we're going to help you rethink the way you see goal setting. Then we have 9 smart money moves for 2021 that will help make the new year a financial success.
4 essential guidelines for financial goals you will actually achieve
1. MAKE YOUR GOALS SPECIFIC
A specific goal is much more achievable than an abstract one. Many people say, "I want to get into financial shape." But what exactly does that mean? Do you intend to off your credit cards? How about increase your monthly 401(k) contribution?
2. START SMALL
Small successes help build momentum. With small initial goals in mind, you're more likely to get started and see results. Those small victories can help boost your confidence and your motivation. For example, if your goal is to get rid of credit card debt, pay off your smallest balance first and work your way up.
3. TRACK YOUR PROGRESS
It's difficult to stay motivated if you don't know if you're moving closer to your goals or falling behind. A measure of your progress also tells you when to adjust your efforts, if necessary. More importantly, the ability to see where you are and how far you've come provides a tremendous sense of accomplishment. For help, try using a budgeting and money management app that keeps track of your progress.
4. SHARE YOUR GOALS
A way to keep yourself accountable is to tell at least one or more people your goals. That way you feel obligated to someone other than just yourself, as if you have your very own fanbase that wants to see you succeed. In fact, a Dominican University study found that people were far more likely to accomplish their goals when they wrote them down, rated them, and then shared the information and their progress with a friend.
9 Smart Financial Goals for 2021
Increase your retirement savings, protect your money and more with these money moves. They may not be easy per se, but they are things you can accomplish without a whole lot of time or effort.
1. (RE)BUILD YOUR EMERGENCY FUND
If 2020 taught us one financial lesson, it is the importance of having an emergency cash reserve. With the staggering number of layoffs and furloughs, many people found themselves tapping their emergency funds.
A study from Clever found that 61% of Americans said they don't expect to have any emergency savings by the end of 2020. That is why the first and foremost goal of 2021 should be to create or replenish your emergency savings. The right level of cash to have in an emergency fund is different for everyone. But a good starting goal is $1,000, and ideally building up to something more comfortable, about 3-6 to months' worth of expenses.
2. MEET WITH A FINANCIAL ADVISER
Perhaps, the silver lining is that many people are now taking action to get their finances under control. They are seeking professional guidance. As a result of the pandemic, one in four Americans are meeting with a financial adviser for the first time ever, according to a Nationwide survey.
Whether it is your time or a yearly portfolio review, the guidance of a financial adviser can make a major difference between achieving your goals and making costly mistakes.
3. INCREASE YOUR RETIREMENT SAVINGS
Some things we know for sure won't change in 2021 are the maximum contribution limits for retirement accounts. As in 2020, workers under 50 can contribute $19,500 to their 401(k) and $6,000 to their IRA; those 50 and over can contribute an additional $6,500 in "catch-up" funds to their workplace account and $1,000 to their individual account.
But if you're not maxing out your retirement accounts, then you have room to save more. Ideally, you want to save 10-15% of your paycheck. You can increase your contribution whenever your want, and some plans allow you to set automatic increases. It's an easy move you can make within a couple minutes that will brighten your financial future.
4. REVIEW AND UPDATE YOUR BUDGET
From travel restrictions to office closings, many of us spent most our time at home throughout 2020. You may have experienced dramatic changes in how you spend money. Therefore, it's a good time to review and adjust your budget for the new year. Cancel any services you don't plan to use anymore, such as gym memberships. And, if you will continue to work from home, determine what can you do with the savings on travel expenses.
5. PROTECT YOURSELF FROM FRAUD
Unfortunately, scammers have used the pandemic as a moment of opportunity. The SEC has recently reported a significant uptick in complaints regarding investment scams. Protect your money by signing up for alerts from your bank and credit cards. Most importantly, secure your personal information with secure passwords for all online accounts. Remember, you can check your credit report any time of the year, including once for free. And always use caution when engaging with people online or receiving unsolicited messages or phone calls.
6. CHECK YOUR TAX WITHHOLDINGS
Checking your withholding can help protect against having too little or too much tax withheld from your paycheck. No one wants an unexpected tax bill or to give Uncle Sam more money than necessary every month. You can check to see if the right amount of tax is withheld from your paycheck by using the IRS Withholding Calculator.
7. SHOP AROUND FOR INSURANCE AND REASSESS YOUR INSURANCE NEEDS
Shopping around among various companies can help you save money on your premiums. Using a broker who can do this for you with multiple carriers will save you a lot of time, too. If your needs or responsibilities have changed this past year (say, the kids moved out), you want to be sure you have the right amount of coverage.
8. REFINANCE YOUR MORTGAGE
Your largest nondiscretionary expense is likely your home mortgage. When mortgage rates plunge as they have recently, you may be able to refinance and save money. Or, you may be able to shorten the term of your loan from 30 years down to 15 years and pay it off sooner. Ultimately, refinancing will depend on whether you qualify for a lower rate, how long you plan to own the home and when you would recoup the closing costs.
9. SET UP OR UPDATE YOUR ESTATE PLAN
A crisis can serve as a reminder of what matters most in life – our loved ones and our health – and what we should do to protect them. What happens to your spouse if you pass away? What about your children? If you have been asking these questions, then it is probably an indication you need to update your estate plan.
An estate plan designates who will receive your assets and manage your financial obligations after your death or incapacitation. What documents you need depends on the size of your estate and your situation. That includes where you live, as estate rules can vary by state. Among the key documents for your estate plan include: a will, designated beneficiaries, living trust, advance health care directive and a financial power of attorney.
Because your financial assets are involved, a financial adviser is also a valuable resource to ensure your wishes are fulfilled.