More People Meet Financial Advisers for Help: Here's How to Get Started
November 11th, 2020 | 4 min. read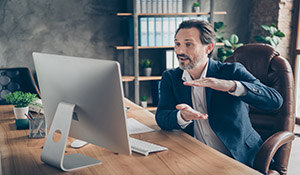 From investments to taxes, money can be a complicated and intimidating thing to navigate. That was true before the coronavirus – and it's true now. The difference is that the economic impact of the pandemic has both exacerbated previous problems and introduced new stresses.
In turn, surveys show Americans are feeling increased levels of financial anxiety.
Perhaps, the silver lining is that many people are now taking action to get their finances under control. They are seeking professional guidance. As a result of the pandemic, one in four Americans are meeting with a financial adviser for the first time ever, according to a Nationwide survey.
Of the many misconceptions about financial planning, including "it's too expensive" (it's not) and "it's only for the wealthy" (it's for everyone), there are the emotional nerves and confusion around starting a relationship with a financial adviser. To demystify the process, here are the ABC's for meeting with a financial adviser.
Finding a financial adviser
Arguably the safest way to find a financial adviser is to ask people you trust, such as friends or family, for recommendations on who they use. Be sure to ask them specifically why they like their adviser.
These days, however, the preferred way of finding anything is by searching online. You can simply type "financial adviser" and your location (ex., financial adviser in Southfield) in a search engine and a list of results should appear. You'll be able to find not only the names of financial advisers nearest you, but also reviews, award announcements and news stories, all of which may indicate what quality of service you may receive.
Researching a financial adviser
You can learn a lot about a financial adviser before ever walking through their door.
A financial adviser's website likely includes details on what services are offered, bios and credentials, their investment philosophy, the firm's culture and more.
Also, many advisers make their ADVs available to download through their website. The Securities and Exchange Commission (SEC) requires professional investment advisers to annually submit ADV forms, which detail important considerations such as investment strategy, fee structure, account minimums, key personnel and any disciplinary action taken against the adviser.
Of course, if an adviser has any rulings against him or her, it's important to know what they are. You can search through the Financial Industry Regulatory Authority's BrokerCheck website to find out.
When you an adviser whom you may want to work with, the next step is to schedule a meeting. This is often done with a brief 15-minute phone call.
The initial meeting
The purpose of your first meeting is likely to develop a workable financial plan that's designed to put you on a path toward your financial goals. Before your meeting, spend some time writing down what your ideal future looks like.
Ask yourself:
What is the most important thing you want to accomplish in retirement?
Where do you want to live, if you could live anywhere?
What have you always wanted to do but have never had the time or resources to do?
What will you leave for your children and grandchildren?
Will you learn a new skill or pursue a new hobby?
Will you travel?
Knowing both where you are and where you want to be are essential to creating a comprehensive financial plan.
Also needed for your financial plan is all of your financial information, including insurance and annuities, retirement accounts, investments, assets, and liabilities.
Therefore, among the documents you may need to provide include:
Investment account statements
Bank account statements
Pay stubs
Tax returns from the past two or three years
Employer benefits information
Insurance policies
Debt/loan statements
Most importantly, you should come prepared with questions. Here are the nine most important questions to ask a financial adviser:
What are all the costs and fees associated with your services?
How will you and your firm be compensated?
Are you a fiduciary?
Who's your custodian?
Are you credentialed?
How long have you been a financial adviser?
Do you have any disclosures?
How will you invest my money, and what's your investment philosophy?
How often will we communicate?
Becoming a client
Now comes the presentation of your plan and recommendations for growing and preserving your assets. A financial adviser may do this in person or remotely. You will discuss things like investment strategies, potential risks, your feeling toward investment risk, your time horizon for reaching your goals and projections for achieving them.
At this point, if you think the adviser can meet your needs at a reasonable cost, you want to become a client. Remember though, numbers are important but not everything. Choosing the right adviser is also about being comfortable with this person and their firm.
Once you agree to become a client, you will be asked to sign a variety of contracts and forms, such as a client agreement and investment policy statement. Among other things, these documents detail in writing how your money is to be invested and managed.
Additionally, you will have to approve the transfer of your investable assets to an account with your adviser's custodian. A custodian is simply the financial institution that holds your account and the investments in it. You should never be required to give the money you're investing directly to a financial adviser.
Working with a financial adviser
As a client, your financial adviser should meet with you on a regular basis to discuss any new life events or changes to your goals. At those times, you will assess your portfolio asset allocation and progress.
Between meetings, you can expect your adviser to continuously monitor your investment performance and make adjustments as needed to help keep your plan on track.
A financial adviser will continuously help you with an array of financial needs and challenges, including planning for retirement, saving on taxes, saving for you child's college education, choosing when to file for Social Security, buying insurance, investing an inheritance, creating an estate plan, navigating health and Medicare plans, and acting as a voice of reason to keep your emotions in check.
Why you decide to work with a financial adviser is irrelevant. What matters is that you get started. The guidance of a financial adviser can make a major difference between achieving your goals and making costly mistakes.
Choosing an adviser you can trust to guide you throughout your financial life is one of the most important decisions you'll have to make. This checklist provides the key questions you need to ask. Use it to help make your search easier by comparing adviser services, fees and expertise.