How to Compare Financial Advisers
February 16th, 2023 | 4 min. read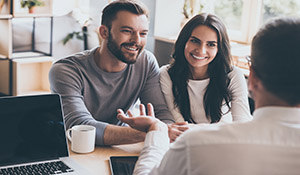 The farther along your financial journey, the more complex it becomes. Eventually, you'll likely want to work with a financial adviser to help ensure you're making the right decisions for your situation. But finding a financial adviser you trust isn't exactly easy. If fact, it can feel downright intimidating.
How do you even compare financial advisers?
It's not the same as shopping for, say, a TV. You can't simply search online for the best reviews and best prices. There are thousands of financial advisers out there, some who may work locally or nationally, and all offering a variety of services for different fees.
We at Advance Capital Management know that choosing a financial adviser is one of the biggest financial decisions you'll make. That's why we only want to partner with people who share a mutual level of comfort. After all, it's your life savings that are involved.
So, when we meet with you, we make sure you've explored all the different features covered in this article. These will help you successfully compare financial advisers so that you can be confident in your choice.
This article covers the five most important qualities when comparing financial advisers:
Regulation
Services
Costs
Background
Your preferences
How are they regulated?
Anyone may call themselves a financial adviser, financial planner, wealth manager or just about any other title. What really separates one professional from another is in how they are regulated.
Registered investment advisors, such as Advance Capital Management, are regulated under the Investment Advisors Act of 1940 by the Securities and Exchange Commission (SEC). This act bounds RIAs to the fiduciary, or "trust," standard, which is the highest legal standard. Essentially, a fiduciary adviser is someone who manages a person's assets on their behalf and solely in their best interest.
Registered representatives or brokers, meanwhile, are regulated by the SEC's Regulation Best Interest rule. This is a lower standard than the fiduciary standard. Unlike investment advisors, brokers are not paid directly by clients. Instead, they earn commissions for trading stocks and bonds, and for selling mutual funds and other products.
As a fiduciary, it may sound a little self-serving to recommend that you work with a fiduciary adviser. But it can be an effective way to ensure that a financial adviser is acting in your best interests at all times.
What services do they provide?
Before you search for a financial adviser, it's important to consider what services you need. The services offered among advisers can vary broadly, so you want to ask specifically what an adviser can do for you.
Most financial advisers will provide financial planning help. Some may also manage your investments, while others may outsource the management of your investments to an investment adviser.
Some financial adviser firms also provide full or limited services in other areas of your financial life, such as tax planning, retirement planning, college planning and estate planning. Then, there are advisers that provide comprehensive financial planning that includes most if not all of the above.
Further, there are financial advisers that specialize in specific areas, such as divorce, business succession and families with special needs.
When searching for a financial adviser, make it a point to share your personal needs and ask if they have the services and resources to fully meet them.
How much do they cost?
The cost of a financial adviser depends on how they are compensated. Here are the three most common ways financial advisers charge for their services:
A percentage of assets under management (AUM)

An hourly, annual or flat fee

Commissions on investments or products sold
Advisers who charge a percentage of assets under management or a flat fee are known as fee-only advisers. A standard AUM advisory fee is around 1%. Meanwhile, hourly fees for a financial adviser can range in the low hundreds, from about $100 to $500 an hour, while annual fees can range in the low thousands, from about $1,000 to $5,000 per year.
Those who earn commissions, mainly brokers, are commission-based advisers. They are compensated through investments they sell in the form of commissions and other fees.
As you compare financial advisers, keep in mind that fee-only financial advisers are registered investment advisers with a fiduciary responsibility to act in their clients' best interests.
Generally, lower cost is better because it means you keep more of your money invested. But it's not the most important thing. Rather, you want to pay a fair price for the level of service that you need.
What is their background?
A financial adviser's website likely includes details on what services are offered, bios and credentials, their investment philosophy, the firm's culture and more.
Also, many advisers make their ADVs available to download through their website. The Securities and Exchange Commission (SEC) requires professional investment advisers to annually submit ADV forms, which detail important considerations such as investment strategy, fee structure, account minimums, key personnel and any disciplinary action taken against the adviser.
Of course, if an adviser has any rulings against him or her, it's important to know what they are. You can search through the Financial Industry Regulatory Authority's BrokerCheck website to find out.
Your preferences
Comparing financial advisers isn't all about them – it's most importantly about you.
As a client, your financial adviser should meet with you on a regular basis to discuss any new life events or changes to your goals. At those times, you will assess your portfolio and progress. Between meetings, you should expect your adviser to continuously monitor your investment performance and make adjustments as needed to help keep your plan on track.
Beyond that, it really comes down to your own preferences. So, think about how you would like to work with your financial adviser.
Do you want to work with someone who is local? Or, are you comfortable engaging remotely?
How often do you want your adviser to communicate with you? Weekly, monthly or only when something comes up?
You should feel empowered to find an adviser who aligns with your personal preferences.
Bonus: Questions to ask a financial adviser
Perhaps, the best way to compare financial advisers is to speak with them. Come prepared with questions. Here are nine important questions to ask a financial adviser:
What are all the costs and fees associated with your services?
How will you and your firm be compensated?
Are you a fiduciary?
Who's your custodian?
Are you credentialed?
How long have you been a financial adviser?
Do you have any disclosures?
How will you invest my money, and what's your investment philosophy?
How often will we communicate?
Ultimately, consider the time it takes to compare financial advisers as worth it. People who worked with a financial advisor were found to be nearly three times happier than those who didn't, according to a study by Herbers & Company.
If you're reading this, then you are likely looking to hire a financial adviser or find a new one. We can help. Download our Comparison Checklist right now to make your search easier by helping you compare financial adviser services, fees and expertise.