Alternative Ways to Help Your Child Pay for College
September 18th, 2019 | 2 min. read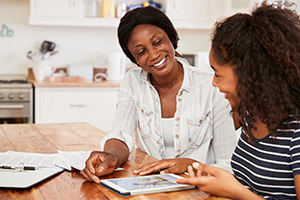 As tuition rates increase, so too does the difficulty of paying for college.
Over the past 10 years, in-state tuition and fees at public four-year institutions rose at an average rate of 3.1% per year, according to the College Board. Meanwhile, the Federal Reserve Bank of New York reports Americans owe nearly $1.5 trillion in outstanding student loan debt.
The high cost of higher education forces many parents to reevaluate their financial priorities. What can you sacrifice from your budget? How much can you contribute toward college, if anything? Should you focus on saving for college instead of saving for retirement?
The truth is, retirement should take precedence over your child's education. You can't take out a loan for retirement. And, there's no guarantee you'll be able to work in old age to make up for any shortfalls in your retirement savings.
So, what can you do if putting away money for college isn't an option, or if the amount you can save may cover only a portion of your child's education?
You can find alternative ways to help, such as these options that won't cost you much more than your time and energy.
Help find scholarships and grants
The good news is that there are thousands of scholarships and grants available, and chances are that your child will qualify for one or more of them. The bad news is that it takes time to sift through them all. That's where you come in. Sites like StudentScholarshipSearch.com allow you to search among all available scholarships and find those that best match your child's background, field of study, sport, skill, interest, achievement or other attributes.
Help research schools
These days, where one attends college is less of a factor in hiring decisions by more and more companies. In fact, some major companies, including Google, Apple and Bank of America, no longer require employees to even have a college degree.
Therefore, it doesn't necessarily pay to seek admission into only the highest ranked, most expensive schools. Instead, it may be better for you and your child to choose the school that is most affordable. Your child can receive the same quality of education for a fraction of the cost and without sacrificing quality job prospects.
Network on their behalf
Throughout your career, you will likely build a valuable network of contacts and colleagues. It can also prove valuable for your child. Use your connections to help your child get a paid internship or part-time/summer job. He or she can earn money to put toward college expenses and gain important work experience. Moreover, it gives your child the opportunity to establish his or her own connections for finding a job upon graduation.
Get cash back for college
These days, you can earn reward points for just about anything, including saving for college. One such program is Upromise. As a Upromise member, you can earn cash back for eligible purchases that goes into a college savings plan.
Set up a 529 account -- ask for contributions
For your child's next birthday or holiday, tell family and friends to skip the gadgets and clothes. Instead, ask them to help fund your child's education. What other gift can provide lifelong benefits?
That doesn't mean asking for cash gifts, but rather contributions to a 529 account that you set up for your child.
A 529 plan is a tax-advantaged investment account designed for college and other higher-education expenses sponsored by each state. Withdrawals for qualified higher-education expenses are tax-free. Expenses that qualify include tuition, books, and other education-related expenses at most accredited colleges and universities, U.S. vocational-technical schools, and eligible foreign institutions.
You are allowed to participate in a 529 plan from any state, so work with a financial adviser to set up a 529 account that's most appropriate for you and your student.
The bottom line
Current trends show that paying for college isn't going to get any easier. The best thing you can do is to plan ahead, but also to explore all the ways you can help your child succeed. If you choose to make saving for a college a top financial goal, it's worthwhile to speak with an adviser who can look at your entire financial picture and find ways for you contribute without putting your other important goals aside, especially retirement.