Top Financial Living Blogs of 2019 for the New Year
January 3rd, 2020 | 3 min. read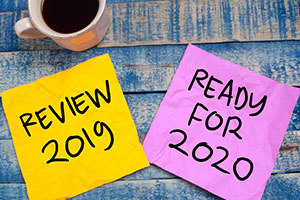 As we enter 2020, we would like to start off the new year by expressing our gratitude to everyone who has enjoyed Advance Capital's Financial Living Blog. It was one of our best years yet, with well over 100,000 readers. Without the support of readers like you, none of this would be possible.
And, if you haven't subscribed to the blog yet, what are you waiting for?
Our goal is to provide easy-to-understand, enlightening and actionable information to help you make the smartest financial decisions possible – tips and advice for your financial challenges today, tomorrow, whenever.
Therefore, we're going to say goodbye to 2019 by sharing our top blogs of the past year – things you may have missed or want to revisit – that will get you ready for the new year, the new decade and beyond.
Everyone's experience in retirement is unique. But there are some characterizations we can draw from data collected in various surveys and studies of retirees.
The happiness we feel about our money, work, relationships, life in general, isn't derived by only what happens, but also how we perceive what happens.
Not all financial goals are alike, so the way you save for each one should be different, too.
Do you have a will or an estate plan? Around half of you reading this said "no." And of those of you who said "yes," most haven't updated their will or plan in some time.
If there's one thing everyone should learn about money is to never make financial decisions based on generalizations. Everyone's situation is unique, which requires unique choices.
Health is wealth. At no other time may this be truer than in retirement. Whereas many of your expenses decline once you retire (hopefully you don't have to commute, the mortgage is paid off and the kids are financially independent), health care costs will generally rise as you age.
They say it takes a village to raise a child. With the rising cost of college, students can use all the help they can get. And grandparents are stepping up.
There are common "hard things" everyone must overcome to reach their financial goals. For which, your emotions wrestle with your logic and there are no easy answers or recipes.
The trick to any great challenge is to prepare well enough so that it becomes almost boring, even when things don't go according to plan. In other words, don't go seeking adventure.
What things in your life may have you overlooked? Have you ever wondered if you're taking full advantage of your financial adviser's services? Or, if you've been handling money on your own, do you know how a financial adviser can help?
On the Richter scale of financial fears, most people would put a recession near or at the top. From job loss to market downturn, the potential magnitude of financial dangers can be severe. But just how fearful should investors be of the next recession?
Preparing for retirement can feel less daunting when you take it step by step. As Chinese philosopher Lao Tzu said: "A journey of a thousand miles must begin with a single step." So, we've compiled a basic checklist to help you on your way.
You have the freedom to design your financial future. But, you're not free from the human tendencies that can trip you up along the way.
In a world of major data breaches, where millions of people have their personal data compromised, it is more crucial than ever to make security a part of your financial planning process.
Today, with smartphones and tablets, you have an endless sea of information literally at our fingertips. As it pertains to your investments, instant access to all that information can do more harm than good.
Benjamin Franklin famously said: "An investment in knowledge pays the best interest." Another way to put it would be to say, An indifference to ignorance charges the most interest.
The truth is your behavior will have a greater influence on your wealth than any product. Given that, it's worthwhile to consider the benefits of gratitude and how they can ultimately make you a better steward of your money – for the benefit of yourself and for others.
Though it is a part of life for many people, caregiving is not a certainty for everyone. Therefore, it doesn't always make it into financial planning conversations. But, when you consider how much caregiving can affect your life, you may realize how important it is to explore your options.
Society has come a long way in improving gender equality, but there are still many roadblocks that are unique to women when it comes to planning for retirement – earning less, spending more time out of the workforce and living longer, to name a few.
Natural tendencies such as fear and overconfidence can cause us to make bad investment decisions, such as chasing market fads and not diversifying. It explains why the average investor often earns below average market returns. So, why not take just a minute to learn what it takes to become a successful investor.
Thanks for reading!