Ways You May Not Know a Financial Adviser Can Help
August 7th, 2019 | 4 min. read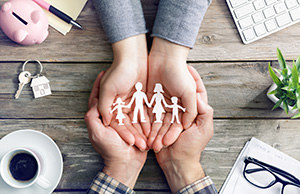 Humans are curious by nature. Yet there's much we fail to know about even the most common things in our lives that could really help us.
Bet you didn't know the hole in the middle of a spaghetti spoon is specifically for measuring a single serving of noodles. What about all the things your local library offers beyond books? Social worker visits, foreign language programs, professional help researching your ancestry, museum passes and more. Just think of how many people forget to use the extra perks most credit cards offer, such as rental car insurance and extended warranties.
What things in your life may have you overlooked? Have you ever wondered if you're taking full advantage of your financial adviser's services? Or, if you've been handling money on your own, do you know how a financial adviser can help?
How a financial adviser can help
When people think of a financial adviser, the first thing likely to come to mind is investing. But a financial adviser, especially one who is a registered investment adviser (RIA), does more than just help you invest money. They provide a variety of financial planning strategies for all phases of your financial life, from saving for retirement to funding a child's education and beyond.
Of course, each financial adviser is different. Some specialize in different areas more than others. Regardless, to not use the full menu of services a financial adviser offers can prove costly. So, here are things a financial adviser can help you with so you can achieve your financial goals and work toward living your ideal life.
Managing your investments – and your emotions
A financial adviser will help you choose investments that can generate enough returns to meet your goals but without taking more risk than you're comfortable with. And, whenever investment markets take a turn for the worse, they can help position your investments appropriately and act as a voice of reason to help temper your emotions so you stay on track for the long term.
Further, over the course of your career you may find yourself owning numerous retirement accounts, such as different company 401(k)s. With the help of a professional, you can consolidate your accounts to better align your investments with your specific goals and lower your investment costs.
Tax planning
We've all heard the phrase about death and taxes. With a financial adviser, you can at least take steps to keep the tax man at bay. Financial advisers can suggest areas – from charitable contributions to creating an estate – where you can reduce your taxes. This is especially helpful in retirement when you're withdrawing money from your tax-deferred retirement accounts.
College planning
Saving for college is a top financial goal for most families. One of the best saving tools is a 529 plan, which is a tax-advantaged investment account designed for college and other higher-education expenses. They are usually sponsored by states. You're allowed to contribute to a 529 plan from a different state, so you will find it helpful to work with an adviser to determine which plan and what investments are right for you and your student.
Inheritance
If you anticipate an inheritance, you will need to know how to best use that money for your financial goals while avoiding any unnecessary taxes. Inheritances commonly come in the form of inherited IRAs, which have different rules based on your relationship with the original owner. An adviser can show you how to efficiently implement it into your overall financial plan or preserve it for future generations.
Social Security
The age at which you file for Social Security greatly determines the size of your benefit. Claim early at age 62 and your benefit is permanently reduced; delay it and you earn a credit of up to 8% per year until age 70. Despite the larger benefit though, it doesn't make sense for everyone to delay. The appropriate age to file depends on personal factors, such as your assets, health and financial goals. And, if you're married, there are a variety of claiming strategies that may make sense for your situation. As one of your most important sources of income, you're better off filing for Social Security under the guidance of a professional. A financial adviser's goal isn't to just help you maximize your benefit but use it in a way that helps maximize your total retirement income.
Life insurance
How much life insurance do you need? Do you need life insurance in retirement? As your life changes, so do your financial needs, including insurance coverage. You don't want to make the mistake of paying for a policy you don't need. A financial adviser can help evaluate your insurance needs and recommend policies that can help ensure your family is protected.
Retirement planning
Everyone has a different definition of what the ideal retirement looks like. Whether it's trips around the world, serving your community or simply being close to family, financial decisions need to be made to turn your dreams into reality. A financial adviser can help you establish a retirement budget based on your needs and wants, determine how much you should save and then how best to use your income sources (pension, Social Security, retirement accounts, etc.) so you don't risk outliving your money.
Advisers also help you navigate one of the trickier financial aspects of retirement: required minimum distributions (RMDs). (This is the amount the government requires you to withdraw from your retirement savings each year.) They can help calculate your annual RMD amount and ensure you've taken it to avoid a steep tax penalty.
Health care, Medicare and long-term care
Health care will be one of your biggest retirement expenses. A couple age 65 and retiring in 2019 can expect to spend $285,000 on health care expenses in retirement, according to Fidelity's Retiree Health Care Cost Estimate. That means you need to prepare ahead of time, which a financial adviser can help you do.
When you turn age 65, you're required to enroll in Medicare, but it doesn't cover everything. You will likely need supplemental insurance, and a financial adviser can help you shop around for an appropriate policy that fits within your budget.
One thing Medicare doesn't cover is long-term care, which can be very costly depending on the type and longevity of care you need. Should you expect to need it, work with a financial professional who can walk you through your long-term care payment options.
Estate planning
What lies beyond retirement isn't always fun to think about. Fortunately, a financial adviser can make planning for it much easier by working with your attorney and getting the proper estate documents in place so your wishes are fulfilled. You may also want to prepare for the possibility that you suffer from a cognitive disease or become incapacitated. A financial adviser can help you establish a financial power of attorney, so that someone you trust protects your money in the event you are unable to.
Are you wondering how a financial adviser can help you?
If your financial adviser offers these services but you've yet to take advantage, what are you waiting for? But if your financial adviser only helps you in a few areas when you need more, it may be time to make a switch. And, if you don't have a financial adviser, it's not too late to hire one. Your financial life is too important to let it go unattended. Consider working with an Advance Capital adviser who can help in all phases of your financial life and guide you toward your financial goals.