Ways to Use Money to Support Your Favorite Causes
June 3rd, 2020 | 2 min. read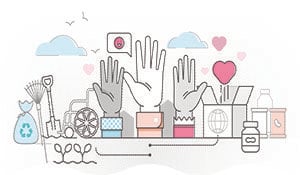 How do you want money to define you? It's a difficult, but important question.
No one builds wealth for wealth's sake. We do it to create the life we want to lead based on the things we value most. Things like family, education, our communities and the well-being of the world around us.
A Bank of America Merrill Lynch/Age Wave survey found that 75% of people age 55 and older say a "life well lived" is about "having made a positive impact on society." Only 10% defined it as "accumulating a lot of wealth."
The desire to make a positive impact can be fulfilled by giving your time, energy, money or all three to something greater than ourselves. With all of life's demands, most people though support their favorite causes, whether it's social justice or animal welfare or special needs education, with financial support.
If you're wondering what's the best way to give back financially, there is no right answer. There are a variety of ways you can make a difference and none are better than the others. Here are some suggestions for making a positive impact with your money.
Donate to charities and nonprofit groups
This, of course, is the obvious one. The challenge is making sure your donation counts. Fortunately, organizations such as Charity Navigator and CharityWatch provide helpful tools for finding and researching charities and nonprofit groups. You can read charity ratings and see what percentage of your donation actually goes toward the program services you want to support.
Remember, when donating you can gift more than just money. You can also give appreciated securities or appreciated property (real estate, art, automobiles, etc.). Assets held for more than one year are tax deductible. However, the tax rule surrounding donated assets can be confusing to navigate, so consider seeking the help of a financial adviser or tax professional if you have questions.
Help people directly
If you want more control over your donation, consider providing direct financial support. This can take many different forms; not necessarily by handing out cash. For example, an increasingly popular act of kindness is to payoff someone's layaway balance for things like holiday gifts and school supplies. Another option is to give to someone in need through a crowdfunding site.
Donate to political campaigns
The fact is individuals can only do so much and the change you want to see may need to be done at a legislative level. In addition to voting, you can support the candidates who share your views by donating to their campaigns.
It's worth noting that political contributions are not deductible and there are generally limitations on how much you can give. For example, the maximum amount an individual can contribute to a candidate's committee for the 2020 federal elections is $2,800.
Spend money at businesses that align with your values
One unparalleled potential benefit of capitalism is the wealth of choice. Many of us are fortunate to have the ability to choose where to spend our money. Perhaps more than ever, small and large businesses are transparent about their beliefs and mission statements and how their products are made. You support those businesses and the causes they support simply by spending money there. A good place to start is to patronize local businesses owned by people who live in your community.
Make charitable giving a part of your financial plan
Making a positive impact doesn't have to come down to occasional one-time donations when it can be a consistent part of your financial plan. You can set up consistent donations from your financial accounts, such as a bank account or an IRA. Other, more complex ways to make large or planned charitable gifts include bequests, charitable trusts and donor-advised funds.
If you want to make giving a significant part of your financial life, it's a good idea to work over your plan with a financial adviser. They can help you navigate the tax benefits and rules so that every dollar you give counts as much as possible.