Protecting Yourself from Elder Financial Abuse
March 31st, 2021 | 4 min. read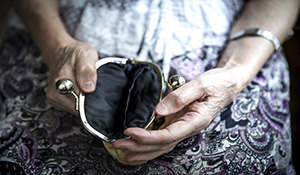 A loved one (a child, sibling, other relative or friend) tricks you into making large cash transfers, which starts to drain your retirement savings. Surely, that wouldn't happen to you, would it?
The fact is you cannot be too sure. One in ten Americans over the age of 60 are suffering from some form of abuse, according to the National Care Planning Council (NCPC). A growing number of older adults are victims of financial abuse, which can take the form of stealing money or forcing a change in ownership of assets.
Part of the reason is that as people age their mental faculties typically decline. Financial decision-making skills are commonly the first abilities to weaken. Studies show that financial mistakes – missing payments, overdrawing accounts, falling for money-making schemes, etc. – are one of the earliest signs of a cognitive disease, such as Alzheimer's or dementia. So, victims of financial abuse may be unaware someone is even taking advantage of them.
Even if you think the possibility is remote, it is important to understand the severity and ways to protect yourself from elder financial abuse – before it's too late.
The impact of elder financial abuse
Older generations have greater amounts of wealth. Unfortunately, as stated in an SEC report, up to 20 percent of people over the age of 65 have some form of cognitive impairment, and more than half of people older than 85 have Alzheimer's disease or another kind of dementia.
As a result, older investors are a prime target for financial abuse or exploitation. Seniors lose an estimated $2.9 billion annually from fraud or financial abuse, according to the Senate Special Committee on Aging. This is likely an under count as many cases go unreported due to victims feeling embarrassed or ashamed.
Therefore, it is important not to underestimate the possibility of it happening to you or someone you love.
It is also important to understand who are the common perpetrators of elder financial abuse. Scammers can include strangers who take advantage of seniors' financial decision-making. For example, by claiming to be the IRS or someone who wants to help redeem a winning lottery ticket.
But, the NCPC says more than half of financial abuse in the United States is committed by family members, caregivers, neighbors and friends.
Protecting yourself from elder financial abuse
Now, you may be thinking, "That would never happen to me. I'm surrounded by people who love and care for me." You may be right. But situations change and people change. Given the unfortunate severity of elder financial abuse, it won't hurt to have a plan in place.
Here are some key steps to protect yourself:
Create a plan with a financial adviser
In addition to managing investments and retirement planning, many financial advisers proactively plan for issues you may face as you age.
In fact, Congress passed a law called The Senior Safe Act, which encourages advisers to get trained in spotting fraud or abuse and report any such instances to law enforcement. Also, two rules from the Financial Industry Regulatory Authority were put in place specifically to protect older investors: one requires that financial advisors ask their clients for a trusted contact in case they exhibit warning signs; and the other allows an adviser to place a temporary hold on their clients' bank accounts if they suspect exploitation is occurring.
With the help of a financial adviser, you can create a plan for who should be notified and what should be done if financial abuse is suspected.
Involve your spouse in all financial matters
Sure, not everyone enjoys handling the family finances. But, to have one spouse in charge of all the financial decisions is a financial risk. When both spouses are involved, from paying bills to making investment decisions, each can make sure the right decisions are made as well as recognize any warning signs before they create a major problem.
Designate a durable financial power of attorney
Each spouse should also establish a durable financial power of attorney. This gives someone the legal authority to help manage your assets in the event you are unable to properly handle them yourself. A durable financial power of attorney, who may access your financial information, could help monitor your finances and decrease the chances of you becoming a victim of financial exploitation or scams.
How to protect a loved one from elder financial abuse
At this time, however, you may be more concerned about someone else's financial well-being. Perhaps, your parents, a grandparent, relative or older friend.
The good news is that family and friends are in the best position to help. Here's how:
Take preventive measures
First and foremost is to minimize isolation. Most victims are targeted because they live alone and are more susceptible to financial abuse because they are lonely.
Further, a simple talk can go a long way. Sit down and discuss their current situation and their future. Ask questions about their finances and discuss their wishes. Offer to make regular credit report checks and to monitor their bank accounts. This will help you determine what type of care they prefer, what assets they have and where they are located, and who they want to handle decisions for them.
Lastly, be sure to perform background checks on caregivers or other hired people close to the possible victim.
Look for any warning signs
The easiest way to help may be with early detection. Some of the things to look out for include missed bill payments, overdrawn bank accounts, junk mail piling up at home and numerous phone calls from numbers you don't recognize.
Take action
Anyone who suspects that an older adult is being mistreated should contact the local Adult Protective Services (APS) office of your state or the police. Elder abuse prevention programs, including APS programs, are available nationwide to investigate and intervene when allegations of abuse are reported.
Not all financial planning involves rates of return or insurance policies to protect your money. That's why, when it comes to your finances, you should work with professionals who will help you overcome challenges during all phases of life.
Since you're here, take a few minutes to learn about another late-life financial challenge: long-term care. Download this guide for important information on Options for Funding Long-Term Care Expenses.