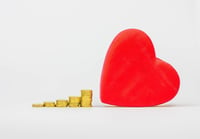 If you've been fighting with your significant other, chances are it's over money and not the dirty dishes piled in the kitchen sink. Money is the leading cause of stress in a relationship, according to a survey of people in relationships or partnerships by SunTrust Bank. Coming in second: annoying habits.
Money problems don't mean two people are incompatible. It just means they have work to do to put their finances – and their relationship – on firmer footing.
Watch financial adviser and CERTIFIED FINANCIAL PLANNER™ Sean McDonnell as he joins FOX2 Detroit with helpful steps for couples to improve their finances and de-stress their relationship:

Don't just take Sean's words for it. Sit down with your better half and start working toward a happier financial future by filling out The Couple's Financial Commitment Worksheet. It provides 7 actionable items that can help couples manage their money together. Click the image below to download your copy.