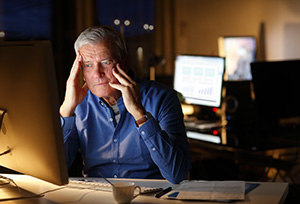 Contrary to popular belief, early retirement is relatively common. According to a Transamerica survey, 56% of retirees said they retired earlier than planned. (Early retirement is defined as age 55 or younger.)
However, few retirees said they retired ahead of schedule because they had the financial means to do so. Instead, it was often the result of job loss, health issues or the need to become a caregiver for a family member. Only 11% said they saved enough money to retire early.
Regardless of the reason, early retirement comes with a different set of considerations than if you were to retire at a typical age in your 60s. For AT&T employees, it's a matter of how an early retirement may affect your AT&T benefits. From your pension to your insurance coverage, you have to plan differently.
Here are the most important things to consider if you're thinking of an early retirement from AT&T.
AT&T pension
You are eligible for a vested pension benefit after five years of service, but your benefit will be negatively affected if you do not reach the age and service breakpoints (known as the Modified Rule of 75) for your employment position. Additionally, you may receive a reduced pension benefit if you take your benefit prior to age 55, unless you are a union employee with 30 or more years of service.
Learn more about AT&T's Modified Rule of 75 in our blog: How the Number 75 Affects Your AT&T Retirement Benefits.
Your pension benefit is calculated based on three factors: (1) years of service, (2) pension band (for union employees only) and (3) income level. The higher each of these factors, the greater your pension benefit. Therefore, retiring early could mean missing out on a higher breakpoint and then receiving a smaller pension.
Further, a smaller pension amount would mean a smaller survivor benefit, should you choose a joint life annuity monthly pension option.
AT&T 401(k)
If you retire from AT&T in the year in which you turn age 55 or older, you can withdraw funds from your 401(k) without having to pay an early withdrawal penalty (10%) to the IRS. Should you retire prior to the year in which you turn age 55, you must wait until age 59 ½ to make penalty-free withdrawals.
That means you can't retire at age 54 expecting to just wait a year to start withdrawing funds without penalties. If you're able to retire at age 54, it might make sense to simply wait until the year you reach age 55. This way you gain full access to your 401(k) money and can take withdrawals that are not subject to an early withdrawal penalty tax.
If you roll over your AT&T 401(k) account to an IRA, the age 55 provision does not apply. You must wait until age 59 ½ to withdraw funds from a traditional IRA without early withdrawal penalties.
Another thing worth mentioning is that before you decide to retire, it's imperative that you're confident you have enough saved in your 401(k) to help meet your retirement needs. If not, then you may want to work a little longer, if you can, to save more and give your funds more time to potentially grow.
Social Security
Though not an AT&T benefit, it's important to discuss Social Security, as it is likely to be one of your primary sources of income in retirement. Should you retire in your early or mid-50s, you would have to wait many years before you could start receiving Social Security benefits.
The earliest you can claim Social Security is age 62. However, your benefit is permanently reduced for each month taken before your full retirement age (typically age 66 or 67).
Could you rely on other sources of income until then? Would retiring early mean drawing down your retirement savings too much until you can file for Social Security?
Health Insurance
Similarly, you are not eligible for Medicare until you turn age 65. Fortunately, you have some pre-Medicare coverage options through AT&T.
One of the biggest expenses for most people in retirement is health care. Taking the time to review your options can help you plan accordingly and avoid large out-of-pocket costs that could derail your retirement.
Employees who satisfy the Modified Rule of 75 may be eligible for retiree medical, dental, vision and life insurance benefits. Plans available to you will depend on your service date, retirement date and/or other factors. This emphasizes the importance of accruing enough years of service to comply with the rule.
At retirement, you have the ability to keep your plan but the cost to you may increase. You can instead switch to a different plan during a special enrollment window. At the end of each year, you will have the opportunity to change plans during general open enrollment.
Life Insurance
Again, if you meet the Modified Rule of 75, you are eligible for a basic life insurance benefit after retirement. As a retiree, the amount of your basic life insurance benefit depends on your age, employment classification and compensation. A supplemental life insurance plan may also be available to you in retirement.
Most people would choose to retire sooner rather than later. Hopefully, you are fortunate to do so on your own terms. Before you sign that resignation letter, however, make sure you understand the impact early retirement has on your personal AT&T benefits. A financial adviser can help you. But, if you've got the financial means and financial planning stages covered, then what are you waiting for?