What to Know If You Decide to Retire from AT&T Early
November 3rd, 2021 | 5 min. read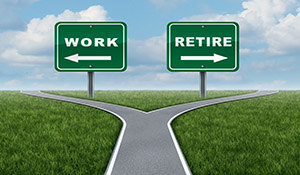 Are you an AT&T employee who's suddenly thinking about retiring earlier than originally planned? Well, then it's time to do some planning.
As Dwight D. Eisenhower once said, "Plans are useless, but planning is indispensable." In other words, you can't stick to the same plan when the conditions change. You have to adapt.
For many AT&T workers right now, there are a lot of big changes happening, both in the workplace and in financial markets. It might make sense for you to consider retiring from AT&T sooner rather than later.
However, it could mean having to navigate a different set of financial considerations than before. It's a matter of how an earlier retirement date impacts your AT&T benefits. From your pension to your insurance coverage, you have to plan differently.
Here are the most important things to consider if you decide to retire from AT&T early.
WILL YOUR AT&T PENSION BE AFFECTED?
You are eligible for a vested pension benefit after five years of service, but your benefit will be negatively affected if you do not reach the age and service breakpoints (known as the Modified Rule of 75) for your employment position. Additionally, you may receive a reduced pension benefit if you take your benefit prior to age 55, unless you are a union employee with 30 or more years of service.
Let's break it down: Your pension benefit is calculated based on three factors: (1) years of service, (2) pension band (for union employees only) and (3) income level. The higher each of these factors, the greater your pension benefit. Therefore, retiring early could mean missing out on a higher breakpoint and then receiving a smaller pension.
Further, a smaller pension amount would mean a smaller survivor benefit, should you choose a joint life annuity monthly pension option.
Therefore, you decide, use the AT&T pension calculator tool located at www.netbenefits.com to project different pension estimates at various dates in the future. It is important to recognize how a different retirement date could impact your pension payout.
WHAT IS THE CURRENT COMPOSITE CORPORATE BOND RATE?
If you are thinking about expediting your retirement date, another figure to keep in mind is the current interest rate used to calculate AT&T's pension payouts – the Composite Corporate Bond Rate.
Why?
Generally, when rates are increased, lump-sum payouts are decreased, and vice versa. Even small changes in the rate will impact the size of your AT&T pension. Therefore, rate changes may affect your decision whether to retire early or continue working, as well as to take an annuity or a lump-sum payout.
CAN YOU WITHDRAW FROM YOUR AT&T 401(K) WITHOUT PENALTY?
If you retire from AT&T in the year in which you turn age 55 or older, you can withdraw funds from your 401(k) without having to pay an early withdrawal penalty (10%) to the IRS. Should you retire prior to the year in which you turn age 55, you must wait until age 59 ½ to make penalty-free withdrawals.
That means you can't retire at age 54 expecting to just wait a year to start withdrawing funds without penalties. If you're able to retire at age 54, it might make sense to simply wait until the year you reach age 55. This way you gain full access to your 401(k) money and can take withdrawals that are not subject to an early withdrawal penalty tax.
If you roll over your AT&T 401(k) account to an IRA, the age 55 provision does not apply. You must wait until age 59 ½ to withdraw funds from a traditional IRA without early withdrawal penalties.
Another thing worth mentioning is that before you decide to retire, it's imperative that you're confident you have enough saved in your 401(k) to help meet your retirement needs. If not, then you may want to work a little longer, if you can, to save more and give your funds more time to potentially grow.
WHEN DO YOU PLAN TO FILE FOR SOCIAL SECURITY?
Though not an AT&T benefit, it's important to discuss Social Security, as it is likely to be one of your primary sources of income in retirement.
Should you retire in your 50s, you would have to wait a while before you could start receiving Social Security benefits.
The earliest you can claim Social Security is age 62. However, your benefit is permanently reduced for each month taken before your full retirement age (typically age 66 or 67).
Could you rely on other sources of income until then? Would retiring early mean drawing down your retirement savings too much until you can file for Social Security?
Also, is it better for you to take Social Security early or to delay? By waiting until age 70 entitles you to a higher benefit of up to 8% per year. A benefit at age 70 will be 76-77% higher than the payout if you start at age 62.
WHAT ARE YOUR INSURANCE NEEDS?
One of the biggest expenses for most people in retirement is health care. So, you need to make sure you're covered. Keep in mind, you are not eligible for Medicare until you turn age 65. Taking the time to review your options can help you plan accordingly and avoid large out-of-pocket costs that could derail your retirement.
Eligible AT&T retirees and dependents have the ability to enroll in the AT&T group medical and dental programs at the full cost of coverage.
Unfortunately, AT&T is eliminating the pre-Medicare (before age 65) medical and dental subsidy for management employees who retire on January 1, 2022, or later.
Therefore, AT&T management employees who retire in 2022 or later and are not Medicare-eligible may need to look elsewhere for health insurance coverage. Among those options include joining your spouse's plan, COBRA or shopping around on the ACA healthcare exchange.
Also, some eligible AT&T employees may receive a basic life insurance benefit after retirement.
Yet, this too, has been recently changed. AT&T is reducing the amount of life insurance available for retirees. Currently, AT&T retirees receive 50-100% of their final years' salary as life insurance, depending on their age. Beginning January 1, 2022, the amount of retiree life insurance will be capped at a flat $15,000.
Most people would choose to retire sooner rather than later. Hopefully, you are fortunate to do so on your own terms. Before you sign that resignation letter, however, make sure you understand the impact retiring earlier than planned has on your personal AT&T benefits. A financial adviser can help you.
We know, that is a big decision. With a 30+ year history of working with people like you, our goal is to help you understand how these changes impact your situation.
Learn more by registering for our upcoming AT&T webinars hosted by AT&T-experienced financial advisers, who will discuss recent changes impacting AT&T employees -- and how you can maximize your retirement benefits!
Some topics we are sure to cover, include:
How recent interest rate increases will lower your lump sum pension in 2022
The impact of your retirement date on your healthcare benefits
How your age and years of service affect your retirement benefits
What to do with your 401(k) after you retire
How to know if you are ready to retire
REGISTER NOW
Tuesday, Nov. 16 @ 6 pm EST
Virtual Webinar

Wednesday, Nov. 17 @ noon EST
Virtual Webinar
You can learn more about AT&T's employee benefits by downloading our "go-to guide" on AT&T retirement topics: The AT&T Employee's Guide to Retirement. (CLICK THE BUTTON BELOW.) This interactive guide covers all AT&T benefits, with the goal of helping you make more informed retirement planning decisions.