AT&T Lump Sum or Monthly Pension? Here's How to Decide
May 27th, 2021 | 3 min. read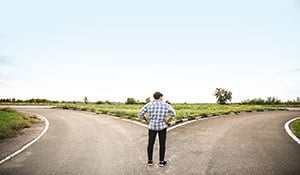 As an AT&T employee, one of the most important financial decisions you'll make comes near the end of your career: Should I choose an AT&T lump sum or monthly annuity pension?
Choose a lump sum, you receive a large sum of cash that you can invest however you want. Choose a monthly annuity, you receive a guaranteed check every month for the rest of your life.
There is no single right answer. Whether a lump sum or traditional monthly payout is best for you depends on your entire financial picture, including the size of your 401(k) account, Social Security benefit and other assets.
It's not an easy decision because they both have different pros and cons. In some instances, unfortunately, you are given an offer with a short window of time to make a choice. The following steps will help give you an idea whether an AT&T lump sum or monthly pension is right for you.
LEARN HOW YOUR PENSION IS CALCULATED
There are three factors that help determine the size of your pension benefit: (1) years of service; (2) pension band (for union employees only); and (3) income level.
The higher each of these factors, the greater your pension benefit.
You are eligible for a vested pension benefit after five years of service, but your benefit will be negatively affected if you do not reach the age and service breakpoints for your employment position. Additionally, you may receive a reduced pension benefit if you take your benefit prior to age 55, unless you are a union employee with 30 or more years of service.
CONSIDER THE PROS AND CONS OF A LUMP SUM PENSION
The primary benefit to a lump sum pension is the flexibility that it offers. You can invest it however you like, and you have control over how much you take from it each month.
Additionally, you have control over your beneficiaries. You can pass on what's left to your children or a charity.
A drawback of a lump sum pension is that when invested, it is at risk of market downturns. You also have the responsibility of making this money last throughout the rest of your life. However, with a sensible investment plan, you can reduce some of the market risk yet still have the opportunity to reap the full rewards of any growth.
CONSIDER THE PROS AND CONS OF A MONTHLY ANNUITY PENSION
With a monthly annuity, you don't have to worry about outliving your money. You can expect a guaranteed check each month for as long as you live. Further, you don't have to worry about market fluctuations or managing a cash flow from your portfolio.
A monthly annuity may also provide you with the most income overall, if you are in good health and expect to live a long time based on your family history.
On the other hand, your monthly annuity is not indexed to inflation, meaning you won't receive a cost-of-living adjustment and may experience a substantial loss of buying power over time. Whereas, a lump sum invested in an IRA gives you the ability to choose investments that may help your money grow above the rate of inflation.
Also, there are survivorship limitations with a monthly annuity. Only a spouse is eligible as a beneficiary.
CHECK THE INTEREST RATE
One wild card that may affect your decision is a change to the corporate bond rate, which the AT&T pension plan uses to calculate your lump sum offer.
Another thing to take into consideration is the interest rate used to calculate AT&T pension payouts – the Composite Corporate Bond Rate. The rate set in November of the year before your commencement date will determine the amount of your lump sum.
Generally, when rates are lowered, lump-sum payouts are increased, and vice versa. Therefore, rate changes may affect your decision whether to retire early or continue working, as well as to take an annuity or a lump-sum payout at retirement.
TALK TO AN AT&T BENEFITS EXPERT
Your next step should be to speak with an AT&T experienced financial adviser to leave no doubt as to what works best for you.
A financial adviser who can look at your specific situation and compare options with you. Your pension is an important income source for retirement. However, it's only one part of your overall financial picture. There are many more factors to consider before you decide which option is right for you. Among those include your AT&T 401(k) savings, Social Security, other income sources and marital status.
We're here to help.
As a company that has served AT&T employees for 30+ years, we can create a complimentary AT&T financial plan for you within 1 day.
In addition, here are some good questions to ask yourself before making your decision:
Do I have an emergency fund in case of the unexpected?
How much income will I need to protect my spouse in case of death?
Do I even need any more income from my investments?
Will I need that income now or later?
Are there concerns about the sustainability of AT&T's pension plan?
Do I care what is left behind for my children or charity?
How long will I likely live?
Ultimately, this is a very personal decision and it depends on your specific circumstances. So, consider your options carefully and, preferably, with the help of a knowledgeable adviser.
Learn more about AT&T's retirement benefits by downloading our go-to retirement guide: The AT&T Employee's Guide to Retirement.