Where to Find AT&T Benefit Advice in Retirement
March 3rd, 2021 | 4 min. read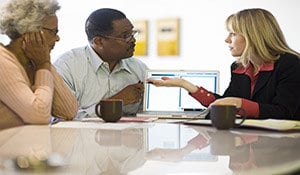 Exploring new places and new things is actually a way to learn more about yourself. As the poet T.S. Eliot put it: "The end of all our exploring will be to arrive where we started and know the place for the first time."
A similar experience occurs with your finances. The more you explore your options, the better you will understand your financial needs and what decisions are right for you.
Consider your AT&T retirement benefits. Your pension and 401(k) are administered and managed by large financial institutions. As an AT&T employee, you receive access to educational materials and financial planning services. This is great. Except, what about when you transition into retirement and are on your own? Where do you get help? What do you even need?
The answers are found by exploring your options.
Comparing financial professionals
Upon leaving AT&T, you are not required to work with financial institutions that handle the company's benefits.
A financial firm hired by the company may value their relationship with said company more than any one individual. Whereas, an independent financial firm only serves you.
Therefore, when it comes to planning and managing your financial future, you owe it to yourself to find the right financial partner. Financial advisers can vary in many ways. Exploring those differences will increase the chance that you pick the one that works best for you.
Here are some other important ways financial advisers differ:
Regulation
Not all financial advisers are regulated by the government in the same way. Registered investment advisors, such as Advance Capital Management, are regulated under the fiduciary, or "trust," standard, which is the highest legal standard. A fiduciary adviser is legally obligated to act solely in your best interest.
This is one of the important things to look for in an adviser. After all, you want someone who puts your best interests first.
Not all financial professionals are RIAs, and, subsequently, not all financial professionals work under the fiduciary standard. Therefore, it's important to be aware that the advice you receive from one adviser to the next can differ depending on how they are registered.
Cost
Cost is another important way to compare financial advisers.
The cost of financial advice can translate into a substantial amount of return in the form of positive investment performance and avoided costly mistakes. Still, you shouldn't pay more than you have to.
And paying less doesn't mean less service.
Advisers can be compensated for their services in different ways. Some charge a flat dollar amount or a percentage of assets under management. Others are compensated by the investments they sell in the form of commissions and 12b-1 fees. This is an important difference. It's better to have an adviser who is compensated for the work done for you and not for the investments sold.
The more you pay in fees, the less of your return you get to keep. That's less money you have in your portfolio compounding and building wealth.
Expertise & familiarity with AT&T benefits
Of course, you will want to know if the financial professional is qualified and capable of meeting your needs.
Unfortunately, there is no standard educational requirement in the finance industry. Instead, it's common to see an alphabet soup of certifications and designations after someone's name. That can make it a challenge to find the right financial professional for your needs.
For financial planning help though, one credential arguably stands out. CERTIFIED FINANCIAL PLANNER™, or CFP®, is regarded as a kind of gold standard in the financial-advisory profession. Advisers who've earned this designation have a proven level of knowledge and experience within financial planning and investing.
And, for something as specific as your company benefits, you should consider someone who has a close history of working with AT&T employees and retirees. Especially, since benefits are subject to change.
Services
Some firms only provide financial planning help. Some firms only manage investments. Some do all in one and even more (tax planning, college planning, etc.). You should know if a financial adviser can meet your needs.
You probably want to avoid having to work with – and pay – separate professionals. Advance Capital's philosophy is that working with one firm and dedicated adviser for your financial planning and asset management needs is more convenient and cost-effective. It can help ensure everyone is on the same page. Instead of juggling multiple people and viewpoints, you work with a single adviser and strategy.
An adviser helps you do that by providing coaching and guidance along the way. Therefore, when hiring an adviser or firm, find out how the relationship will work. You want to work with someone that treats you as an individual not just a number.
Finding a financial adviser
There are a variety of ways to find and research a financial adviser. You may want to start by asking co-workers, family or friends for recommendations. Or, you can search online.
A financial adviser's website likely includes details on what services are offered, bios and credentials, their investment philosophy, the firm's culture and more. Many advisers make their ADVs available to download through their website. This document details important considerations such as investment strategy, fee structure, account minimums, key personnel and any disciplinary action taken against the adviser.
Most importantly, you should come prepared with questions. Here are the nine most important questions to ask a financial adviser:
What are all the costs and fees associated with your services?
How will you and your firm be compensated?
Are you a fiduciary?
Who's your custodian?
Are you credentialed?
How long have you been a financial adviser?
Do you have any disclosures?
How will you invest my money, and what's your investment philosophy?
How often will we communicate?
Hiring a financial adviser may not be as easy as hiring a mechanic. But it shouldn't be. You want a trustworthy financial professional who you'll enjoy working with for many years. Therefore, think of it not as a business transaction but as a long-term partnership.
All of which is to say that it is worth exploring your options.
Learn more about AT&T benefits by downloading the go-to retirement guide: The AT&T Employee's Guide to Retirement. (CLICK THE BUTTON BELOW.) This interactive guide covers all AT&T benefits, with the goal of helping you make more informed retirement planning decisions.