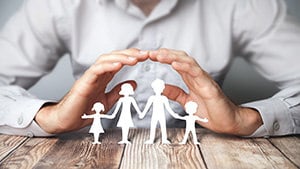 What would happen to your loved ones – spouse, kids, etc. – if you passed away at this very moment?
Of course, it's not a nice thing to think about. But, it's an important question everyone should answer. Part of a healthy financial life is to make sure those you love are cared for when you're gone. For that, most people turn to life insurance.
Fortunately, AT&T provides a life insurance benefit for employees and for some retirees. The challenge is determining how much coverage you need, if you even need it. You want your family to be well supported but also don't want to get stuck paying for more than you need. So, it's worth taking a close look at your AT&T life insurance benefit.
AT&T life insurance options for workers
While employed, you may be eligible for basic life insurance coverage through AT&T. That means it is provided and paid for by the company. For most employees, basic life insurance coverage is equal to one year of your compensation.
If you need additional coverage, you may purchase supplemental life insurance coverage through AT&T's group plan. This a cost-effective way to get access to additional coverage. The cost and amount of coverage you are eligible for under the supplemental plan will vary based on your employment classification, compensation and years of service, among other factors.
AT&T life insurance options for retirees
If you meet the Modified Rule of 75, you are eligible for a basic life insurance benefit after retirement. As a retiree, the amount of your basic life insurance benefit depends on your age, employment classification and compensation.
The supplemental life insurance plan may also be available to you in retirement. In addition to the factors mentioned above, your age will also affect your cost and eligibility.
How much life insurance do you need?
Younger families and single-earner households generally need more life insurance coverage. If you are caring for a family and paying a mortgage, college tuition or other obligations, a larger life insurance policy can help minimize the financial impact on your family should you pass away.
An online life insurance calculator can help you understand how much coverage you need.
Life insurance policies are an asset to you. Like any other asset, you should review your policies and coverage as your life circumstances change, such as entering retirement.
As you age and your financial obligations likely decrease – your kids are no longer your dependents, for example – you may want to reduce your life insurance coverage. That way, you'll have adequate coverage when you need it without wasting valuable retirement dollars on coverage that you don't need.
You can learn more AT&T's benefits by downloading our "go-to guide" on AT&T retirement topics: The AT&T Employee's Guide to Retirement. (CLICK THE BUTTON BELOW.) This interactive guide is designed to help AT&T employees make more informed retirement planning decisions.