Finding Old AT&T Retirement Benefits
September 23rd, 2020 | 2 min. read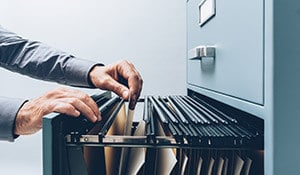 These days, it is rare for someone to spend their career in one place. Most people jump around, leaving for a higher salary or winning work culture, much like professional athletes. There is nothing wrong with trying to better yourself, but it can come with a downside when you're ready to hang it up: finding all of your old retirement benefits.
Around 30% of Americans say they have forgotten to take retirement savings with them when they've left employers, according to a survey by TIAA. That could be a significant amount of assets you need to fund your retirement needs.
If you formerly worked at AT&T, you may have left behind your AT&T 401(k). And now that you're nearing retirement, you might be eligible for an AT&T pension.
These are potentially two important sources of retirement income. Here's how to make sure you receive the AT&T retirement benefits and other assets owed to you.
Contact AT&T about your 401(k) and pension
As an AT&T employee, you likely participated in AT&T's 401(k) plan.
When you leave an employer, you generally have three 401(k) options: (1) keep it; (2) withdraw the entire balance in cash; (3) or roll it over into an Individual Retirement Account (IRA). (Some employers may allow you to transfer a previous 401(k) to your new plan.)
For most people, the best option is to roll over your AT&T 401(k) to an IRA with any other retirement accounts. For one, there are no tax consequences. Unlike withdrawing the funds, which is subject to ordinary income taxes and a 10% penalty, if you're under age 59 ½. Further, an IRA gives you more investment choices. That means more flexibility to create an investment portfolio that is better aligned with your financial goals and possibly lower investment fees.
Depending on how long you were employed at AT&T, you may also be owed a pension.
You are eligible for a vested pension benefit after five years of service, but your benefit will be negatively affected if you do not reach the age AND service breakpoints for your employment position as required by AT&T's modified rule of 75.
If eligible, you might be able to receive a lump-sum or monthly pension payout. Whether a lump-sum or traditional monthly payout is best for you depends on your entire financial situation, including your other assets and personal financial habits.
You can find out which AT&T retirement benefits are available to you by contacting AT&T Access. This is home to all employee and retiree benefit information, including life insurance, health insurance and more. It is also the primary contact for family members of deceased AT&T employees/retirees, as you can get assigned with a case worker.
AT&T Access
877-722-0020
www.access.att.com
Finding other retirement assets
Similarly, you should contact past employers about any other 401(k)s and pensions.
If you don't have that contact information, search among the National Registry of Unclaimed Retirement Benefits for any retirement plan balances in your name. Then visit the Pension Benefit Guaranty Corporation, which has a database of unclaimed pensions and people who are eligible for pension payments.
Spousal benefits
If you're a surviving spouse, you should follow the same steps by contacting your spouse's former employers. Pension plans, in particular, often have joint and survivor benefits, so surviving spouses should investigate whether they qualify for payments.
If you've been divorced, it's also a good idea to check with your ex-spouse's employers to find out if you're entitled to any benefits as a result of your divorce settlement. Additionally, you may be entitled to a Social Security benefit, if you were married to your ex for 10 years and have not remarried. If that's the case, contact the Social Security Administration to determine what, if any, benefits you are entitled to from your ex.
For a deeper dive into your eligibility for AT&T retirement benefits and how to use those benefits for retirement, download the go-to AT&T retirement guide: The AT&T Employee's Guide to Retirement.