One Finance Lesson for AT&T Employees from Coronavirus
April 8th, 2020 | 3 min. read
By Dan McHugh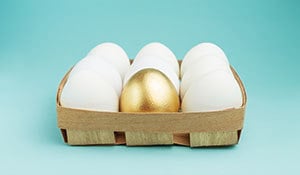 As we all work to stay safe, one additional thing likely on the minds of many AT&T employees right now is the health of their 401(k)s. One potential factor in how yours is holding up right now is how much AT&T stock you own.
Most employees probably saw their AT&T 401(k) drop – if they even had the courage to look – as the coronavirus outbreak rattled the stock market. In the first quarter of this year, the S&P 500, a common representation of the stock market, fell by 20%.
But within the market is a wide variety of returns between individual stocks. Some stocks plummeted much farther than the market as a whole. I believe this serves as a good reminder about the risk of not diversifying your financial life.
A common mistake I see when helping AT&T employees plan for retirement is an excessive amount of their retirement savings invested in AT&T stock. While it can be rewarding to own a share of a respected company like AT&T, it is risky from a retirement planning perspective.
Simply put: when it comes to owning AT&T stock as an employee, you can have too much of a good thing.
The Risk of Owning Too Much AT&T Stock
If you work at AT&T and invest a substantial portion of your savings in its stock, then most of your financial life becomes dependent on the performance of one company. That includes your current income and retirement income, from the AT&T pension and AT&T 401(k) plan. Such a high concentration of your financial well-being in a single company is a high-risk situation.
Think about it. How would your finances be affected if the company goes bankrupt?
Further, as I mentioned above, a single stock is generally riskier and more volatile than a mutual fund or the broader stock market. Therefore, the greater amount of AT&T stock you have in your 401(k), the more you can expect your investment return to fluctuate.
Consider that, although the stock market hasn't fared well this year, AT&T stock has been hit even harder. AT&T's stock price as of March 31 is down 24.4%, compared to a loss of 19.6% for the S&P 500. Going farther back, the S&P 500 has outperformed AT&T stock over 3-, 5- and 10-year periods (shown in the table below).
AT&T Stock vs. S&P 500 (as of 3/31/20)

Source: Bloomberg
As an AT&T employee, you should make changes to your 401(k) so that it's properly diversified. Investment diversification is the investment strategy of owning a wide variety of assets, such as stocks, bonds and cash. It's the investor's way of not putting all your eggs in one basket. Diversification can reduce your portfolio's risk, provide steadier returns and increase your opportunities for earnings.
Why You May Have Too Much AT&T Stock in Your 401(k)
Before making changes, it's important to first understand why you can end up with large concentrations of AT&T stock.
Sometimes it's unintentional. The AT&T company match is automatically invested in the AT&T Shares fund, which is 100% AT&T stock.
Also, employees may simply choose to defer some or all their savings into the AT&T Shares fund. Later, they forget or don't take the time to move funds out.
Another reason is that some people are under the assumption it's against company policy to move their money out of the AT&T Shares fund, so feel discouraged to do so. In the past, there were restrictions on moving funds out of the AT&T Shares fund, but this has not been the case for many years.
What to do with Your AT&T 401(k)
As mentioned, it's more appropriate to diversify the investment choices in your AT&T 401(k) account. That means selling your AT&T stock and investing in mutual funds. The AT&T 401(k) plan offers a variety of funds to choose from, including U.S. and international stock funds and bond funds. The right mix depends on your specific needs, goals and level of risk you're comfortable with.
By owning a wider array of investments, your savings aren't subjected to the performance of just one investment. You can reduce your overall risk but also increase your exposure to growth.
Determining what investments are right for you and when to make changes to your AT&T 401(k) can be tricky, so seek the help of a financial adviser who can help you build a long-term investment plan.

Daniel McHugh is a CERTIFIED FINANCIAL PLANNER™ who provides comprehensive wealth management solutions, such as retirement planning and investment advice, to help clients work toward achieving their financial goals. He is also one of Dave Ramsey's designated SmartVestor investing professionals.
You can learn more about navigating the AT&T 401(k) plan, AT&T pension plan and other AT&T retirement benefits by downloading our free ebook: The AT&T Employee's Guide to Retirement.